The cryptocurrency market is gasping for air in the bleeding market. Several cryptocurrencies have gone into a free fall. The crashing market prices have sent panic waves across the investors and trading community. Major cryptos, including Bitcoin and Ethereum, have shed a significant percentage of their valuation. The altcoin market has also followed a similar trend by posting long red candles.
The overall crypto market cap has suffered a sharp decrease in the last 24 hours. It stands at only $1.81 trillion after losing around 4% in a day. Investors are getting increasingly cautious about the performance of the market. Since the start of April, the market has lost about $400 billion. Almost every major coin has struggled to make a mark in the market. As a result, investors prefer to stay on the sidelines.
Clouds of a disaster hover over Bitcoin and the rest of the crypto market
After falling under the crucial mark of $40,000, Bitcoin geeks speculate further losses for the leading crypto coin. In 2022, Bitcoin mostly stayed over the $40K level. Thus, the degradation in its price is a concerning factor for the overall market.
As of now, Bitcoin is valued around the $39K mark. In the last 24 hours, BTC has lost 3.50%, taking its weekly losing tally to over 6%. With a market cap of $741.52 billion and a 24-hour trading volume of $25.60 billion, Bitcoin is desperately searching for relief in the market. As the graph below shows, BTC has regained some value after plunging to almost $38,500 earlier in the day.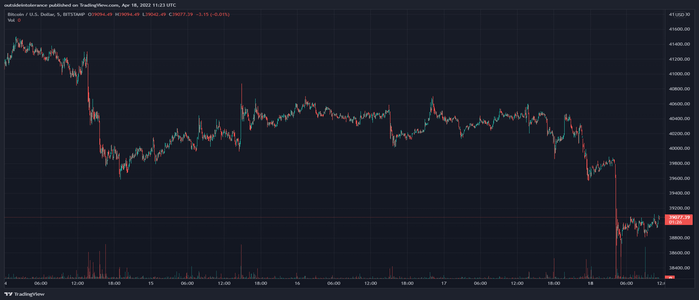 On the other hand, Ethereum has gone under $3,000 for the first time after crashing in mid-March. Consequently, investors are refraining from heavily investing in the leading altcoin. The falling market cap and trading volume are a confirmation of this phenomenon. Ethereum is at $2,910 after shedding 4% in a day.
In addition to this, other big guns in the market have also posted alarming results. XRP, ADA, and SOL have lost more than 5%. BNB, AVAX, DOT, and LUNA have persisted with the losing streak. No coin in the list of top 10 cryptocurrencies has resisted the downward trend. Moreover, DOGE and SHIB have also lost over 6% to frustrate their investors.
The poorly performing US Stock Market and upcoming speeches of Federal Reserve policy-makers is a reason that has triggered the Bitcoin sell-off. Also, the Easter holiday weekend halted the market momentum. Experts anticipate that if the market conditions remain the same, BTC might soon retrace to $32,000-$35,000.