Solana is a blockchain aiming at solving the scaling and speed challenges of the decentralized world with an infrastructure designed for global usage. Blockchain technology has come a long way to show the numerous capabilities of different solutions.
From payments to decentralized applications and data recording, there are many examples that blockchain systems offer tools to solve real-world problems. Many of them have shown what's possible with smart contracts and multi-layer networks.
But there are still problems that prevent blockchain-based solutions become day-to-day solutions. Scalability, slow transactions, and limited infrastructures are the problems that even the biggest blockchains still face. 
Speed, security, and censorship resistance are vital goals for the Solana blockchain. The system provides everything needed to develop and distribute decentralized applications with a focus on those three fundamentals.
The blockchain has been successful in attracting many developers to migrate their projects from other blockchains. The ecosystem is growing very fast, and lots of big projects, including Serum, Circle, Audius, and Chainlink, have decided to use Solana as their fundamental blockchain for long-term goals.
What is Solana?
Solana is an open-source project with a focus on providing a scalable, fast, and secure blockchain framework for dApp development.
Based in Geneva, Solana Foundation maintains the open-source project. This project uses theoretical solutions from centralized databases and applies them to blockchain systems to achieve high speed and scalability.
The development team believes 40 years of research on distributed systems is now applicable on Blockchain networks with their new system.
An interesting fact about the mechanism is that it uses a solution similar to nLocktime feature in the Bitcoin blockchain. Implementing the solution helps Solana achieve a high speed of 710,000 transactions per second.
Launched in 2018, this blockchain is the result of a partnership between some tech veterans from Qualcomm company. Anatoly Yakovenko and Greg Fitzgerald are the key founders of Solana, but the project has been open-source from day one, and many developers worldwide contribute to it.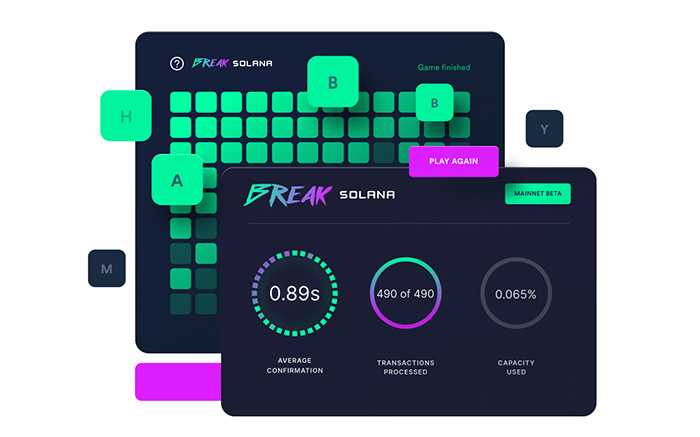 Is Solana a DeFi?
The short answer to this question is No. But Solana can become the home for most of the future DeFi platforms. The fundamental offerings of the system, including speed, censorship resistance, and scalability, make it a great choice for DeFi developers. Many DeFi platforms have decided to migrate to the new blockchain, and we can expect more to come in the near future.
How Does Solana Work?
As mentioned above, Solana provides various features and tools for blockchain developers to create their decentralized applications fast and benefit from the speed and scalability.
There are eight core components in this ecosystem that work together to make the features available. These components are:
Proof-of-History (PoH) protocol

Tower BFT

Turbine protocol

Gulf Stream transaction forwarding protocol

Sealevel parallel smart contract runtime

Pipeline transaction processing unit

Cloudbreak database

Archivers distributed ledger storage
Proof of History
PoH is the main feature of Solana that makes it unique and available to manage various scaling capabilities. Proof of History protocol is a novel approach for validating blocks in the Solana blockchain. It solves the timestamp issue in block production.
PoH works on the basis of a stack of proofs. Each proof shows some data existed before the proof was created. Besides, it assures a specific period of time has passed before the next proof. In simple terms, it works like taking a validating picture from yourself next to a newspaper to show that picture is taken after the newspaper was published. 
What is Solana Used For?
Solana is an open-source project that can be considered as a platform for developing decentralized applications.
The features and tools available on the blockchain let developers create applications and connect them to each other. Solana tools and protocols focus on speed and scalability.
So, developers can be sure their projects will be ready for supporting more and more users.
Who Created Solana?
Anatoly Yakovenko published a whitepaper about Proof of History in November 2017. The former Qualcomm engineer described a reliable clock in the whitepaper that made network synchronization easier.
In simple terms, he suggested solutions from centralized transaction processing systems – Visa, for example – to be implemented on blockchains and improve the speed. Anatoly first developed his idea in C language, but his friend and former coworker at Qualcomm, Greg Fitzgerald, suggested using Rust to improve the idea.
Greg prototyped the first implementation of Anatoly's whitepaper in 2018 and published it on GitHub as an open-source project. Stephen Akridge later joined the team, and they co-founded a company named Loom to manage the project.
After a while, they rebranded Loom to Solana, "a nod to a small beach town north of San Diego called Solana Beach, where Anatoly, Greg, and Stephen lived and surfed for three years when they worked for Qualcomm," according to the blockchain's official docs.
SOL The token of Solana
SOL is the native token of the Solana blockchain. It has many use-cases in the blockchain, including paying for services from nodes. Developers pay SOL to node operators for running on-chain programs on the nodes or validating outputs. Paying SOL in micropayments is available in the blockchain.
The smallest amount of SOL is called Lamport, in honor of Leslie Lamport, who has the biggest technical influence on the initial team. Each Lamport is equal to 0.000000001 SOL.

About Solana Foundation
Solana Foundation is a non-profit organization that is responsible for build, support, and grow the open-source project. It also focuses on expanding the community and has managed many programs like grants for attracting developers to the Solana exosystem.
Based in Geneva, Switzerland, the foundation always invites teams and blockchain experts to join the community and help Solana grow faster.
Conclusion
Scalability is a fundamental need for blockchain projects. They need tools and features to be able to serve as many users as possible. Only from this way can we expect growth for the whole industry and more mainstream users joining the community.
Solana is a great solution to this need and has been successful in attracting considerable projects over time. We can expect more projects still coming to this new novel system that may have an effect on the price of SOL token, too.