BakerySwap is a DeFi product on Binance Smart Chain with various services from exchange and pools to farming and NFT marketplace. DeFi protocols have experienced considerable growth in the past years. Many of the new ones want to try newer blockchains to run.
Various products of BakerySwap have made it a famous one for those who are looking for a completely decentralized financial service for investing or trading.
There are multiple services available on BakerySwap. It basically is a decentralized exchange (DEX) that runs on an Automated Market Maker (AMM) protocol. There are options like trade, earning, launchpad, and NFT marketplace available on BakerySwap.
Besides, this exchange provides the opportunity to liquidity farm the ETH 2.0 staking token by providing LP tokens earned on the platform.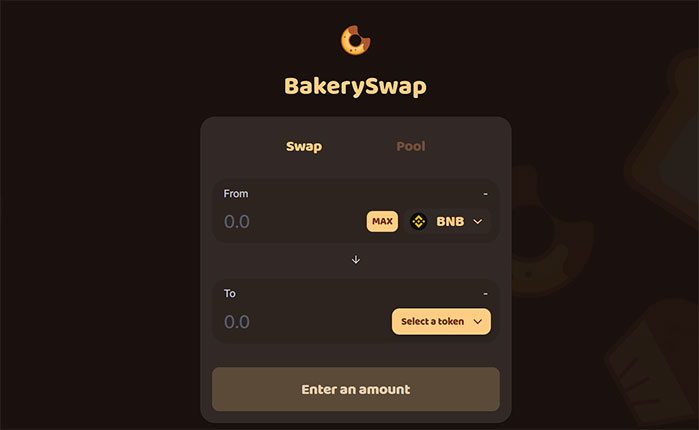 What is BakerySwap?
There are many DeFi products in the DeFi industry that have food-themed names. There are similarities and differences between these platforms, but almost all of them provide tokens for those who provide liquidity on the platform.
Therefore, the trading mechanism will stay decentralized, and there are also enough financial incentives for new users to provide liquidity. BakerySwap is one of those food-themed DeFi protocols that offers many more features next to liquidity farming.
Many of the first DeFi services were launched on Ethereum. But due to high gas fees and slow confirmations, many developers decided to move to other similar public blockchains. Binance Smart Chain or BSC is one of those that experienced considerable growth in terms of users and products in the past months.
BakeySwap is built on this blockchain, too, to provide cheaper fees and faster confirmations. This DeFi service uses the AMM algorithm for tradings and distributing liquidity rewards. 
How does BakerySwap work?
BakerySwap exchange is an AMM DEX. It means there is no order book in this exchange. In simple terms, users trade against a liquidity pool that is filled with the tokens that liquidity miners have provided. An interesting fact about BakerySwap is that it's one of the few DEXs on BSC that offers altcoin liquidity pools.
Users who provide liquidity to pools in BakerySwap receive LP tokens. The tokens are distributed to liquidity providers based on their share of the pool. LP or liquidity provider tokens have many use-cases in the DEX. You can convert your LP token to the original token of the pool. Besides, you can stake those tokens to receive other tokens as well.
What is the BAKE token?
BAKE is the native token in the BakerySwap protocol. It's a BEP-20 token that has many use-cases in the platform. The BEP-20 protocol is the native protocol of the BSC blockchain, similar to WRC-20 on Ethereum. BAKE is initially the governing token of the BakerySwap protocol.
In simple terms, BAKE holders can participate in governing votes of the platform. Votings happen for many reasons, from changing the trading fees to upgrades and even changing the designs. BAKE holders receive shares from transaction fees, too.
The trading fee on this DEX is 0.3%, that 0.25% of that goes to liquidity providers. BAKE holders receive the remaining 0.05 of each transaction in the BAKE token.
Earning BAKE needs to provide liquidity to one of the supported pools on BakerySwap. It can be bought on exchanges like Binance, though. Anyway, the swap supports providing BAKE tokens for liquidity providers in pools including BUSD, ETH, BTC, DOT, LINK, and BAKE versus BNB. But the supported pools are always added to the DEX.
A simple example of earning BAKE is providing liquidity to the BUSD-BNB pool. You'll receive BUSD-BNB BLP tokens. Then you should farm your BLP token to receive BAKE tokens in return.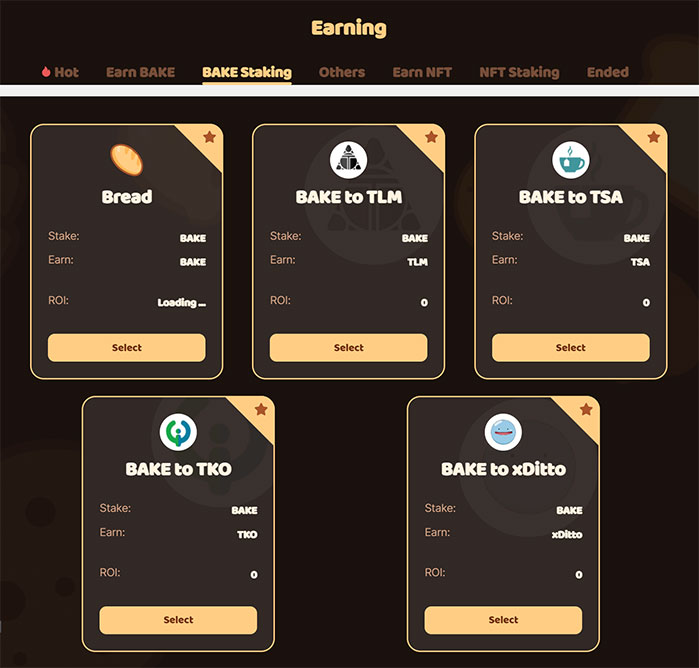 What is Bake Coin Used For?
As mentioned above, the primary use case of BAKE tokens is voting in governing decisions on the BakerySwap protocol. But the tokens can be used for many other reasons, too.
For example, Bread is an option on the platform that lets you stake BAKE tokens and receive BAKE tokens in return. There ate many other staking options available on the platform that results in earning BAKE tokens. Some of them are:
Doughnut: Stake BAKE-BNB BLP to earn BAKE
Waffle: Stake BAKE-BUSD BLP to earn BAKE

Rolls: Stake BUSD-BNB BLP to earn BAKE

Croissant: Stake BAKE-DOT BLP to earn BAKE

Latte: Stake USDT-BUSD BLP to earn BAKE

Toast: Stake ETH-BNB BLP to earn BAKE

Cake: Stake BTC-BNB BLP to earn BAKE
How Do I Link Metamask to BakerySwap?
Using Defi products like BakerySwap needs connecting wallets to the system. MetaMask is one of the most famous wallets for this purpose. It's an Ethereum wallet but supports Binance Smart Chain and its DeFi products, too. Connecting MetaMask to BakerySwap, you should first download the wallet. (Download Link)
Follow the steps below to connect MetaMask to BSC:
After installing the wallet, clock on "Get Started."



You can install the wallet by importing seed phrases from an old wallet or create a new one. If you don't have a wallet already, clock on Create a Wallet.

Create a password for the wallet, accept Terms of Use and click on Create.

Back up your seed words in a safe place (not online).



For connecting the BSC, click on Settings>Networks>Add Network.

Enter the following information to connect to the BSC mainnet:

Network Name: Smart Chain

New RPC URL: https://bsc-dataseed.binance.org/

ChainID: 56

Symbol: BNB

Block Explorer URL:

https://bscscan.com

Click on Save.
After connecting the MetaMask to BSC, you should connect BakerySwap to the wallet. Follow the steps below for that:
Visit BakerySwap's official website:

https://www.bakeryswap.org/

.

Click on Connect Wallet on the top right corner.

Choose MetaMask and approve the website on the wallet.
Now you just need to add funds to your MetaMask account to use it as gas fees or staking in the platform. Copy the address of your wallet by clocking in the account name in MetaMask. Paste the address in the service (Crypto Exchanges like Binance, for example) and send some BNB to it. Don't forget to choose the BEP-20 transaction in the sending wallet. After receiving the BNBs, you can swap them for other coins or stake them for earning BAKE tokens.
Conclusion
BakerySwap is one of the most famous DEXs on the BSC blockchain. It offers various financial services to users. Liquidity farming is the most obvious one that results in earnings for staking to users. Swapping tokens on the BSC blockchain is very simple and easy on BakerySwap.
Besides, there are many options for NFT lovers in this exchange. There is a marketplace and gallery that hosts many artists and NFTs. Digital art livers can enjoy this platform and trade their NFTs for fun or earnings. After all, BakerySwap can become one of the biggest DeFi products in the cryptocurrency industry by offering a comprehensive platform with fast and low price transactions.