Video is the most prominent type of content in the tech world. Interest in viewing and creating video content is always on the rise. Many businesses use video marketing to reach more audiences. The explosive growth in platforms like YouTube has shown the potential in this kind of content. Blockchain-based technologies can revolutionize this sector, too. Decentralized streaming services can be the next wave of innovation and bring more opportunities to the industry. Theta Network is a decentralized infrastructure for video streaming that provides many features for both streamers and viewers.
Streaming is one of the most popular ways of creating and distributing video content. The gaming and entertainment industry enjoys streaming opportunities more than any other sector. But centralized systems have always been a burden. The worry about failures in centralized systems, censorship, economic model, and many other factors have resulted in streamers and viewers looking for alternative solutions. Decentralized end-to-end solutions like Theta can solve many of these challenges.

What is Theta Network?
Theta is an end-to-end decentralized streaming service that users run it. In simple terms, there are no middlemen in the process of creating and delivering the video content. Theta ran a private token sale in 2017 and raised $20M to start the project. It was an ERC-20 first, but the mainnet was launched in 2019.
A global P2P mesh network for delivering video content is the primary goal for Theta Network. It leverages the processing and storage resources of edge nodes to deliver content faster and more securely. The token economy for Theta is designed somehow to incentivize users to share their processing and bandwidth resources. Theta uses the resources for caching the video streams. Some of the participants work as relay nodes in this system.
The decentralized system in Theta Network brings many benefits to the streaming industry. Theta solves the last-mile problem in delivering video content next to the natural benefits of blockchain-based solutions like security and censorship-resistance. When relay nodes are active in the network, they make it easier to deliver the video to their near users faster and easier. As a result, high-quality streams will be more accessible.
Video platforms can use Theta Network as their primary delivery infrastructure. Working with relay nodes decreases their CDN costs. Besides, they can offer tokens to participants that increase the overall engagement in the platforms, too. 
Theta Mainnet 3.0
Theta Network plans to revolutionize the delivery network. Decentralizing almost every part of the system is a fundamental goal in this path. Theta Mainnet 3.0 brings many new features to the infrastructure. More professional nodes like Elite Edge Nodes are the essential features in Mainnet 3.0. The new version also makes it possible for TFuel holders to stake their tokens. Other features focus on more tools in edge nodes to fully decentralize the content delivery systems.
Theta Network Participants
The vast diversity of features and benefits that Theta brings for individual and enterprise users help them achieve more in the streaming world. From streamers and content creators to viewers and video platforms, everyone can benefit from the decentralized solutions of Theta Network. Below you can read more about these benefits for each group of users.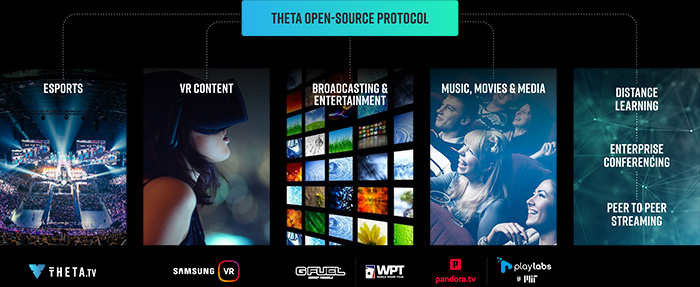 Streamers
Streamers can use Theta Network's various products for distributing their content. Most of them are looking for better streaming quality and more earnings from their content. THETA EdgeCast is one of the products on Theta Network that provides streaming services. The streaming dApp is built on Theta Network and helps streamers connect directly to viewers and directly receive donates or any other payment for their content. THETA.tv is another solution on Theta Network that lets content creators upload their videos on a decentralized service and earn money from them.
Viewers
Viewers in the streaming industry have many problems with traditional video and streaming platforms. Many of them have bandwidth limits that result in low-quality streams. Traditional CDNs can't help them and have significant data needs. Those systems have shown their inefficiency enough, and viewers are looking for alternative solutions. Viewers in Theta Network have access to faster streaming channels. Besides, they receive rewards for their participation in the network. They can share their excess bandwidth and resources. The system results in more engagement from viewers.
Advertisers
Theta Network has a great economic model to connect advertisers to end-users. They can directly target their final audience with lower costs in Theta Network. It also rewards viewers with tokens for their engagement and attention. They also reward content creators with those tokens that ultimately result in more incentive for streamers.
Caching Nodes
The bandwidth sharing mechanism in Theta Network results in more engagement and better streaming quality – especially in virtual reality content. Viewers in Theta platforms pull the stream from caching nodes. In other words, there will be no need for CDN, and the video will be delivered from the nearest caching node to the viewer. Besides, viewers can become caching nodes. It results in better quality in streams and improves the market efficiency.
Ingest Nodes
A group of crucial participants in the Theta Network is Ingest Nodes. They provide various bitrates of the videos. They transcode the videos to multiple bitrates and resolutions, so different bitrates are available for viewers. In simple terms, Ingest Nodes provide services for Caching Nodes and complete their service. Ingest Nodes receive tokens as rewards, too.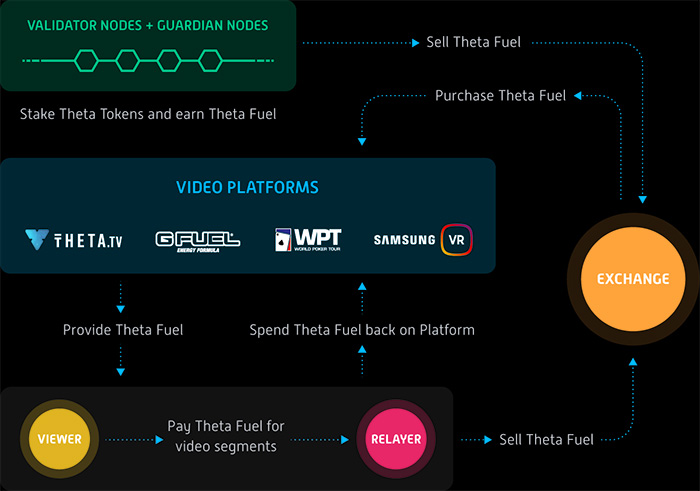 Theta.TV
The most prominent streaming service that uses Theta Network is Theta.TV. It's a live streaming platform, especially for esports entertainment, that features the most popular games. Many famous streamers like NICKMERCS, Method, and FaZe on SLIVER use Theta.TV. The leadership team behind Theta.TV has successfully raised money from prominent investors like Samsung, Sony, BDMI, and GREE. Mitch Liu and Jieyi Long are the co-founders of Theta.TV.
Theta Fuel
Theta Network runs on a two-token model for governing and operations. THETA is the governance token in this network, and TFuel (or Theta Fuel) is operational. Rewarding, payments, and completing transactions are all made by TFuel. But THETA is used only for staking as a validator or guardian node.
How do I earn Theta Fuel?
There are many ways you can earn TFuel tokens. One of the easiest ones is watching streams on Theta.TV. The streams with an orange TFuel icon in the top right are the best ones for earning the token. Theta Network uses your excess upload bandwidth to stream for other users and gives you TFuel for watching and sharing your bandwidth.
What Can I Get with Theta Fuel?
Theta Network provides various opportunities to spend or donate TFuel in the platforms. Viewers can donate their streamers with the token or use it to buy goods in online shops. Because of the payment use-case, TFuel can be used for subscribing to streaming channels, too.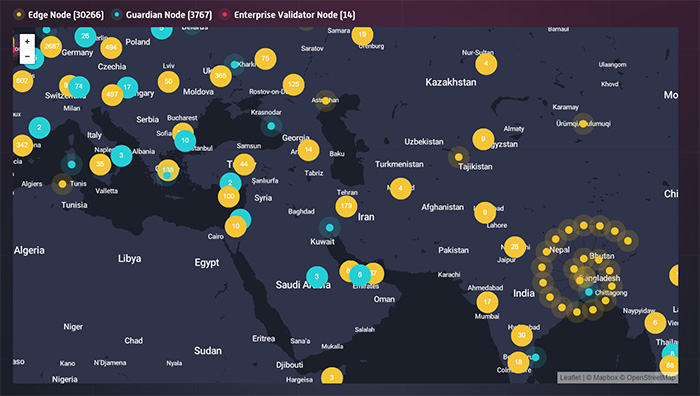 Conclusion
Video platforms have shown the capacity to expand very fast. Their biggest problems like censorship, quality limits, and last-mile delivery are still prominent. Solutions like Theta Network can help the industry by providing a decentralized, reliable solution. These solutions have the potential to attract lots of users because of the financial and engagement incentives. We can expect more video platforms to use Theta Network, and a decentralized future for video streaming is not a dream anymore.
Project Links