Decentralized exchanges are the most innovative solutions for financial services in the cryptocurrency world. They provide the necessary tools for trading and swapping assets without any need for a centralized intermediary. In other words, DEXs are the ultimate interpretation of decentralization using blockchain technology.
They provide the opportunity to trade digital assets easier and more securely. Besides, there are lots of chances for earning rewards from holdings in these exchanges for liquidity providers. PancakeSwap is a decentralized exchange with numerous services for traders and liquidity providers. It runs on Binance Smart Chain and has a cheap, fast network.
What is PancakeSwap?
A group of anonymous developers launched PancakeSwap on Binance Smart Chain. As the name implies, it has a food theme with the terminology around breakfast and rabbits.
Although the fundamental specs are similar to Etherem-based decentralized exchanges, PancakeSwap provides multiple added features for earning rewards.
PancakeSwap is a decentralized exchange for swapping BEP-20 tokens. BEP-20 is the primary token protocol on Binance Smart Chain (BSC), focusing on extending Ethereum's ERC-20 capabilities. Tokens that are developed based on this protocol can be traded and transferred using smart contracts on BSC.
PancakeSwap works using smart contracts, too. So, staking, trading, and swapping tokens on the exchange is managed by smart contracts.
Binance Smart Chain
Binance, one of the leading cryptocurrency exchanges in the world, launched Binance Chain as the backbone for launching the BNB currency.
It's a blockchain with a focus on ultra-fast trading and is the mainnet for BNB tokens. But that blockchain wasn't optimized for developing decentralized applications.
Binance decided to launch another network with features for developing and running services like smart contracts.
Binance Smart Chain is that blockchain that makes it possible for numerous applications and services with various features. Binance Smart Chain benefits from cross-chain compatibility, and developers can connect their dApps to Binance Chain, too.
Launched in April 2019, Binance Smart Chains focuses on fast, decentralized trading. In other words, the platform is focused on providing the necessary tools for developers to create decentralized trading or payment applications.
Binance has developed a DEX on the platform first to show the capabilities to other developers. Binance DEX is now one of the biggest decentralized exchanges running on BSC.
PancakeSwap Services
There are numerous services and tools on PancakeSwap. It offers multiple opportunities to developers and end-users. Next to the decentralized exchange that lets you trade tokens, farming and staking are popular services in PancakeSwap. They provide the opportunity to earn rewards from holdings in various ways.

Farming & Staking
Users can provide liquidity for various pools in PancakeSwap and earn CAKE tokens. They lock their holdings in pools to provide liquidity for other traders, and the platform rewards them with CAKE tokens. Many LP tokens are supported for yield farming. Some of the most popular ones are:
CAKE – BNB LP

BUSD – BNB LP

BETH – ETH LP

USDT – BUSD LP

USDC – BUSD LP

DAI – BUSD LP

LINK – BUSD LP

TWT – BNB LP
You should first provide the liquidity to your preferred pool and receive LP tokens.
Staking is the other opportunity to earn from your holdings in PancakeSwap. You can stake your CAKE tokens in SYRUP pools and earn other tokens. The simplest way for staking is to stake your CAKE tokens in the CAKE SYRUP. It will result in more CAKE earnings.
Exchange
PancakeSwap exchange is based on the AMM model – short for Automatic Market Maker. Automated market makers remove order books from trading processes. In other words, traders aren't matched with each other.
They trade against a liquidity pool. PancakeSwap is not limited to swapping and trading. The exchange offers more ways to invest and earn money. Two of the most famous ones are:
Lottery
Users who have received CAKE tokens from farming or another way can participate in lotteries on PancakeSwap. You need at least 1 CAKE tokens to participate in lotteries on the exchange.
After buying a ticket by paying 1 CAKE tokens, you receive a four-digit combination of numbers. The numbers are between 1 and 14. E
ach lottery takes 6 hours. After the winning combination is published, if your combination is exactly the same, you receive the jackpot, which is 50% of the entire lottery pool. If two or more numbers are the same, you still receive some rewards.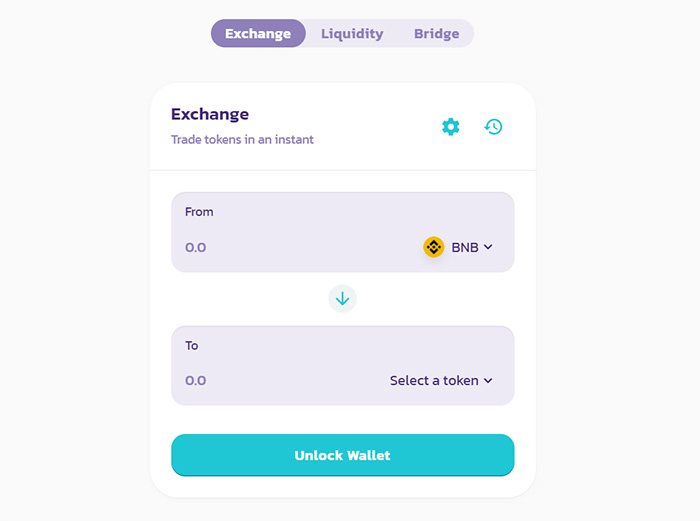 NFTs
Non-fungible-tokens or NFTs are popular tokens in the cryptocurrency world. You can win them in the PancakeSwap exchange. When you win an NFT, you can trade it with CAKE tokens.
Users should register for winning the random NFTs on PancakeSwap. There is an NFT page on the exchange that publishes the upcoming lists and winners.
CAKE The Project Token
CAKE is the native token in the PancakeSwap platform. It has numerous use-cases in the exchange and other services. 60% of the total CAKE supply goes to farmers in PancakeSwap, and 40% is distributed between SYRUP pools.
Is an inflationary token because currently, there is no limit for its distribution and creation. The supply volume is controlled by burning the tokens.
Is PancakeSwap Safe?
PancakeSwap runs on the BSC that has shown its capabilities for running and maintaining blockchains with financial use-cases.
Binance DEX is a robust service on this chain and has demonstrated its capabilities. PancakeSwap published audit history for the platform that numerous security organizations have done for it. Skynet and Security Oracle are two of these auditing associations that test PancakeSwap in real-time.
Investing in DeFi platforms has natural risks, though. You should know where you are putting your money and what risks to be ready for when investing.
PancakeSwap VS UniSwap / SushiSwap /Aave
PancakeSwap has many similarities to other DeFi platforms. It offers decentralized exchange and the chance to farm or stake your tokens.
The most significant difference is that PancakeSwap doesn't run on Ethereum and uses Binance Smart Chain as the underlying blockchain, so the commissions are much lower.
It also offers additional features like lottery and NFT that may attract more users.
Conclusion
PancakeSwap is an excellent alternative for those DeFi users who want faster service. It uses Binance Smart Chain and is a perfect choice for swapping BEP-20 tokens.
Various ways for earning rewards from farming and staking to lottery and NFTs attracts many users to try a DEX that is not based on Ethereum. But the platform still needs time to find more users and show its capabilities for fast, secure swapping.
Links of interest