NEAR is a decentralized open-source platform for developing decentralized applications with numerous tools and features for developers. It's an alternative for the current smart contract blockchains and tries to solve many of their challenges like scalability.
There are various tools available on this blockchain that help developers launch their applications and distribute them to end-users. NEAR Protocol is the smart contract platform in this blockchain with a considerable focus on providing tools to mainstream users.
The tools and features on this blockchain are designed somehow that various use cases can be achieved with them. Financial components are great examples of these tools that are designed for building finance-focused dApps.
Scalability is another focus area in this protocol that removes the limitations of Ethereum and other traditional blockchains that support smart contracts. The block time is 13x faster in NEAR Protocol and has 70x faster finality, for example.
What is NEAR Protocol?
NEAR is a blockchain with a considerable focus on building a decentralized web. NEAR Protocol is the fundamental technology in this blockchain.
It's the smart contract platform with numerous tools and features for dApp developers. Mainstream adoption of decentralized applications is the main focus of this blockchain.
Therefore, the blockchain is designed with scalability on top of mind and tools that bridge the gap between the innovative blockchain world and the traditional tech world.
Building dApps, onboarding users, and scaling the dApps seamlessly, are the benefits of NEAR protocol for developers.
The ecosystem consists of a blockchain with a development platform, communities that are called "guild" in the ecosystem, and the token economy that is shaped around the NEAR token.
There are numerous projects currently building on this blockchain, including Trust Wallet, Maker DAO, Ampleforth, Chainlink, Glyde, and Aurora.
How Does NEAR Protocol Work?
NEAR Protocol provides the essential tools for building and distributing decentralized applications as well as smart contracts on a decentralized platform. Smart contracts are like the back end of the application ecosystem.
The smart contract of this protocol supports AssemblyScript and Rust languages, but all smart contracts must be compiled to WebAsselmbly.
NEAR blockchain uses the Proof-of-Stake model for the fundamental protocol of consensus. It has a sharded model that makes scalability possible. The sharding design in this protocol is called Nightshade.
There is a Rainbow Bridge in the platform that helps developers use Ethereum assets on their NEAR-based applications. 
NEAR Resources
As mentioned above, there are various components that make shape the NEAR Protocol. They consist of protocol design, tools, and client.
Sharding Design: Nightshade

Sharding is a common blockchain design concept. In this design, there can be specific blockchains working with each other, and each one of them is called a "shard."
Validating the data in this concept has always been a challenge because each shard can have a unique set of validators. Nightshade is used in the NEAR Protocol to solve the challenges.
Nightshade doesn't have shard chains and beacon chains, unlike many blockchains. This model creates a system as a single blockchain. Each block in this system has all the transactions of all shards and changes the state of all of them.
But validators don't necessarily download the whole blockchain. They have access to the state that is relative to their shard.
The Ethereum-NEAR Rainbow Bridge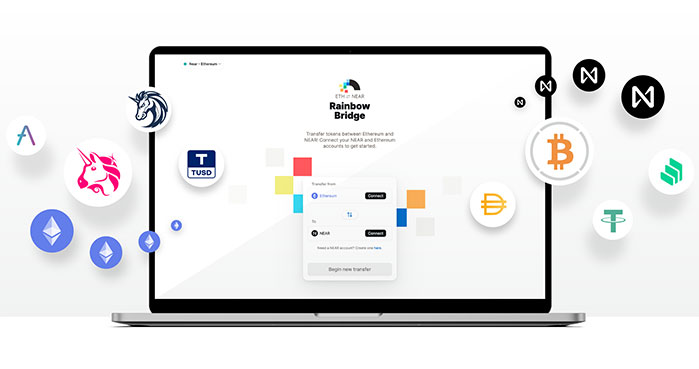 As mentioned above, NEAR Protocol is here to solve many of the challenges we face today in traditional blockchains like Ethereum.
But there are still many projects and tokens on that blockchain that need a bridge to continue working on the new protocol. The Rainbow Bridge solves this issue by providing migration opportunities to users.
Migrating to NEAR protocol and creating an account is very simple. ETH Faucet, hosted by Paras and MetaMask, offers account creation.
You just should log in to your MetaMask account with more than 0.05 ETH balance and then claim a NEAR account for migrating the assets. Users can bridge any ERC-20 tokens to the new protocol.
Tokens like stablecoins, wrapped assets, lending tokens, and service company tokens can be migrated to the NEAR Protocol, for example.
Nomicon
Helping developers and end-users having a seamless experience is the main focus are of NEAR Protocol. It's the reason the teams behind the project want to help developers learn and build faster and easier on the platform.
Nomicon has everything you need to learn about the protocol and its specifications. It's NEAR Protocol specification documentation with numerous headings and topics covered.
The main topics of this documentation are Terminology, Data structures, Architecture, Chain specification, Runtime specification, Network specification, and Economics. You can read all of them on nomicon.io and get familiar with the concepts and details of the protocol.
Case Studies
There are some case studies that describe the details and specifications of building dApps and smart contracts on this protocol.
Flux
Flux is an open market protocol. It means developers can build markets in anything using this protocol. Any asset, commodity, real-world event, and many more things are available to market using the protocol. It offers a trading experience for various markets. It was launched on the NEAR mainnet in August 2020.
The development team had problems with their previous protocol that was based on Ethereum and had high gas fees. Better decentralization, scalability, user-friendly experience, and lower gas fees are the benefits Flux has on the new protocol.
Mintbase
Mintbase makes it easy to create NFTs without worrying about technical complexities. Selling NFT on this platform needs creating stores.
The platform was first launched on Ethereum. When the gas fee on Ethereum went very high, the number of minted NFTs per day or week reduced significantly on Mintbase.
The team decided to migrate to NEAR Protocol to benefit from faster transactions and lower fees. The platform now has more than 13,000 users with hundreds of stores.
Paras
Paras is another NFT market launched on NEAR Protocol. The marketplace offers NFTs from numerous artists around the world. Paras has a card model for offering digital art.
The arts are sold in collections, too. Each card has a text behind it describing its story and background. The number of approved artists is limited in this platform because the team behind it wants to keep the quality consistent.
The NEAR Token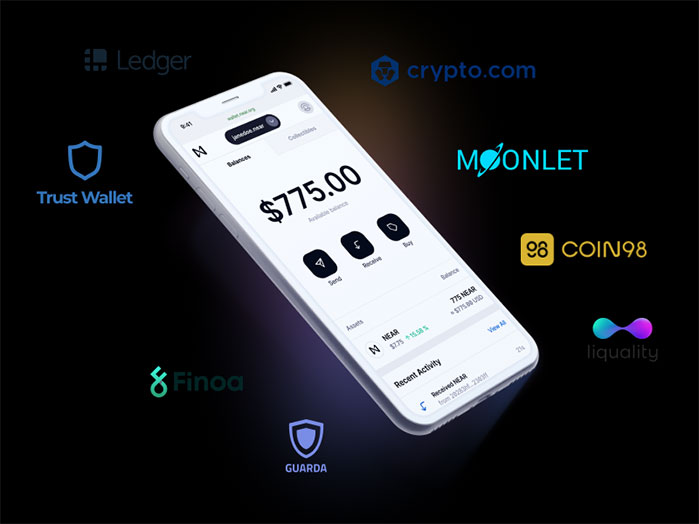 NEAR token is the native token in this protocol with numerous use cases. You should have NEAR to use applications on the platform. Besides, the network governance is done using this token.
The holders can participate in governance votings by paying $NEAR. Another use case of the token is earning a reward by staking it.
As mentioned above, NEAR Protocol is a PoS blockchain that needs stakers to stake their tokens and keep the blockchain running. Numerous wallets, including Ledger, Trust Wallet, and Math Wallet, support this token.
Conclusion
Near Protocol is the answer to many developers who look for a reliable, fast, and scalable development platform. It offers all of the needed tools for developing and distributing dApps in a secure way.
The Nightshade sharding model is unique and helps the protocol keep its scalability feature forever. Faster transactions and lower gas fees are other benefits of this platform over Ethereum and similar blockchains.
After all, it can become the first choice for developers and users after more big projects migrate to it.