Ethereum price remains in an uptrend as it sets a new All-time-high of $3,050, surpassing its previous record of $2,800. Although the $3,000 level is a short-term support, the recent major support levels are at USD 2,920 and USD 2,850 level. This confirms ethereum's bullish trend.
Analysts anticipate ETH to surpass the $3,100 level soon. Ether, the native coin of Ethereum blockchain, clocked $3,051.99 on Bitstamp exchange by 13.00 hours in Asia, on 2 May. This means it has appreciated by over 300% in 2021, out-competing its key rival Bitcoin, which gained 95% during the same period.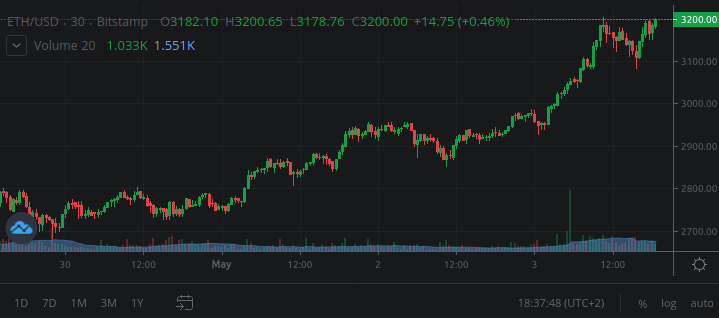 Reuters quote James Quinn, the managing director at Q9 Capital, a Hong Kong cryptocurrency private wealth manager as saying, this price movement is "a catch up to the late gains in Bitcoin in 2020… and a growing shift towards DeFi."
According to Moneyweb, the remarkable performance of Ether also shows a decline in the bitcoin's dominance in the market. Statistics show that the bitcoin now accounts for about 46% of the total crypto market. On the other side, CoinGecko reports that BTC had 70% market share at the beginning of 2021.
Conversely, ETH now accounts for about 15% of the total crypto market, meaning that the other altcoins control 36%.
Developments on the ethereum network and its increasing popularity in the DeFi and cryptocollectibles space results in the ETH's current upward trajectory. The long awaited upgrading promises a better future for ETH.
Performance of other altcoins
There are other cryptocurrencies that performed well in the same period. BTC cleared the previous $56,500 and $57,000 resistance levels and now heading towards the $58 000 mark. If it passes this level, it will move towards the $64,500 level.
In similar developments, BNB rose above $625, consolidating its gains achieved in April 2021. According to CoinGecko, the Binance Coin gained 3,490% in the last 12 months.
Recently, Cardano (ADA) has gained significantly. It surpassed the USD 1.30 and USD 1.32 support levels. Yet, another great mover is the Doge coin, whose price has risen above USD 0.355 and USD 0.365 resistance levels.
The basis for this upward trend is the positive reviews it has on social media platforms, especially Twitter. The likes of crypto guru Elon Musk backs the Doge, resulting in its famous price surge of over 15,000%, with a market value of $50+ billion.