Bitcoin ATH is again in the headlines after weeks of struggling. Bitcoin and Ethereum have not only marked a strong start to the week but also the second quarter of the year. In the last 24 hours, the two largest cryptocurrencies have set a new all-time high. Bitcoin has rallied to reach as high as $62,500. This marks an 815% price surge in the last 12 months.
Ethereum on the other hand has brushed with $2,220 as its new all-time high. Following the latest move, a number of longs got liquidated. Over $800 million has been liquidated in the last 24 hours. The single largest liquidation equalled $10 million.
The price surge comes just hours before Coinbase is scheduled for a direct listing on Nasdaq. This is a major milestone for the crypto industry. Additionally, it is expected to offer investors an indirect way to profit from cryptocurrencies growth without buying or holding any coins. Bitcoin and Ethereum will lead the wider market into a new age.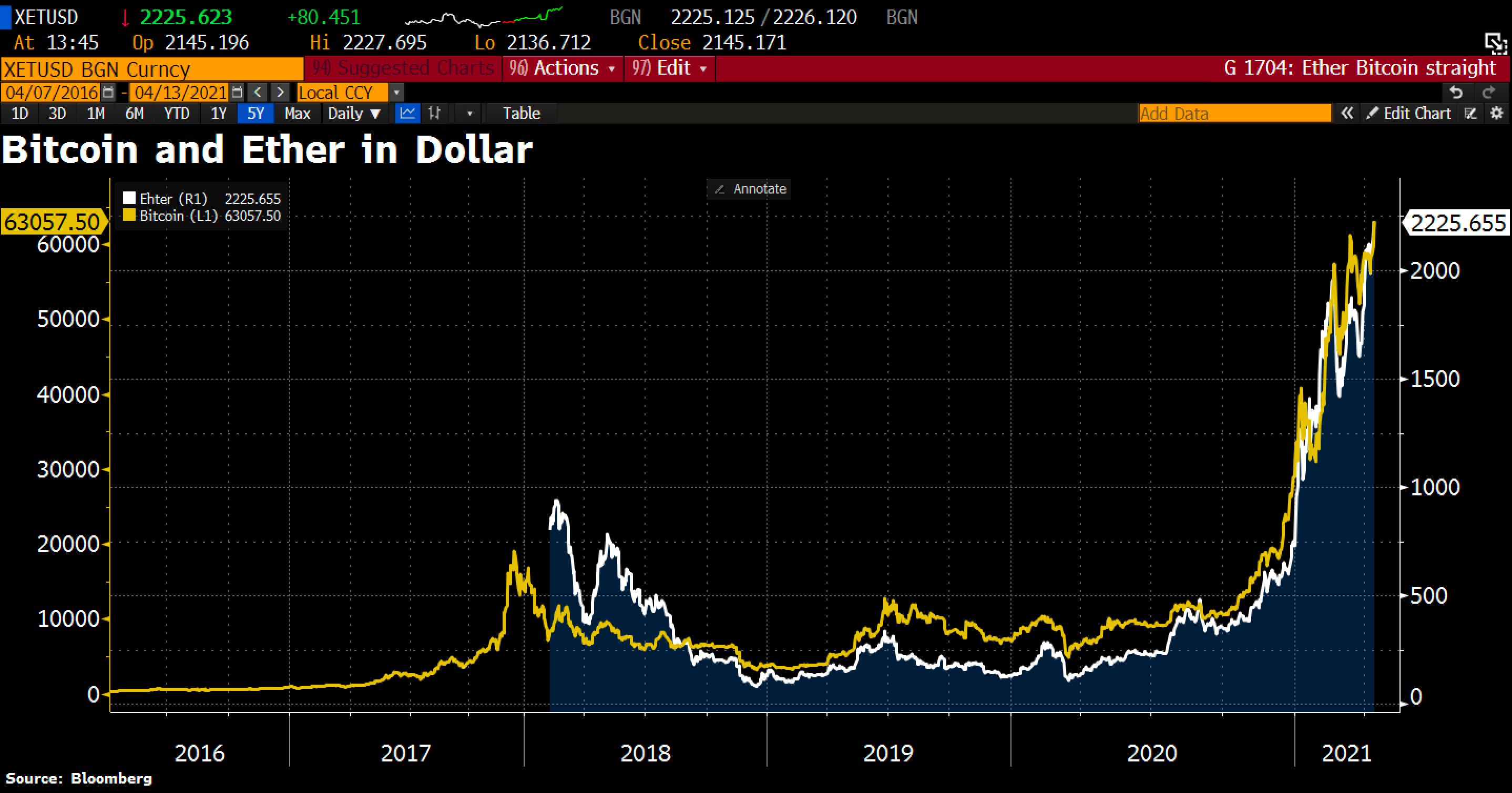 The price jump comes after a weekend of heavy accumulation. Beginning on Friday, whales took out over 100,000 BTC, roughly 2% of the total, out of the market. This accumulation has further been evident through the vigorous exchange withdrawals recorded in recent weeks.
Bitcoin ATH Leads Market To $2T Market Cap
Bitcoin with a market dominance of nearly 55% is set to continue pushing higher. Analysts note that the next critical level is $75K where the coin might encounter major resistance. By the end of the year, expectations are set on $100K. But some including PlanB say that the Bitcoin ATH of $100K is conservative and it could close the year above $250K.
Ethereum is set for a more interesting couple of days. On top of the upcoming Coinbase listing, Ethereum will undergo a major network upgrade this week- Berlin upgrade. This is a major step towards the full rollout of Ethereum 2.0. The upgrade will see the network get back on top after struggling to keep up with other blockchains like Binance Smart Chains. Experts expect Ethereum prices to reach $3K in the immediate future. Further down the road, prices are expected to reach as high as $5K.
The wider market has followed in the steps of Bitcoin and Ethereum. Binance as we reported, has in the last couple of days set a new all-time high just above $600. XRP has also been performing exceptional more than doubling in the last few weeks. The recent price action has seen the total market cap reach over $2 trillion.