Bitcoin is currently trading at around $9,270 after a solid bounce from $8,522 three days ago. Bulls are clearly still in control and getting close to the last daily high at $9,460.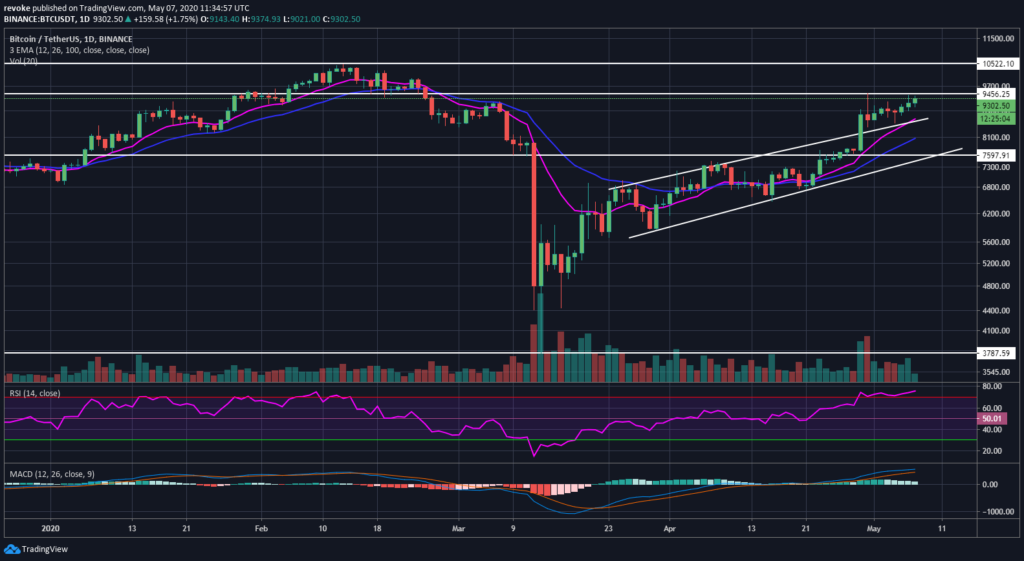 Basically, most indicators are bullish right now but there are some signs of weakness from the bulls, we are close to seeing a double top which will most likely allow bears to take control for a while and the RSI is still overextended on the daily chart.
The daily MACD is now heading towards a bear cross unless the bulls can see more continuation. The most important support level will be the daily 12-period EMA, currently at $8,649. If the last daily high cannot be broken by the bulls, they will look for this support to bounce from.
Is Bitcoin Going to Crash After Its Halving?
Many analysts and traders are predicting that a crash could happen right after the halving of Bitcoin is completed. Is this scenario realistic right now? In terms of technical indicators, Bitcoin could crash if there is enough selling pressure.
Looking at BitMEX and Bitfinex longs vs shorts, it's clear that longs are dominating with around 80% of positions being longs. While this shows that people are interested in buying and holding Bitcoin, it also opens the door for a long squeeze.
However, a long squeeze can only happen if there is a violent crash first, most of these long positions were not opened recently and Bitcoin would need to probably go down to $7,500-7,000 to start triggering some of these positions. The difference between longs and shorts is even more dramatic on some altcoins like Ethereum which is dominated by longs at 91.5%.
Bullish Scenario: $10,500 is Broken
What if there is no crash and the bulls simply maintain control after Bitcoin's halving? Well, there is not a lot of resistance towards the high of $10,500. Bulls need to break $10,000 and $10,250 as the only 2 resistance points towards the peak.
However, bulls would like to see consolidation before all that to cool off RSI levels and maintain a healthy uptrend. The weekly chart has seen a MACD bull cross and it's waiting for the EMAs bull cross. Again, bulls would like to see some sort of pullback or consolidation here as well after 8 weeks of gains.
The bottom line is that no one knows for sure if Bitcoin will even react at all to its Halving. We might not see any significant price move on the day of the event.