Bitcoin has fallen below $9,000 as bulls were not able to hold the 4-hour uptrend and the 12-period EMA in the same time frame. Once the bears broke below the 4-hour, 12-period EMA, they saw a good amount of continuation which eventually led to a break below the 26-period EMA.
The bulls are the ones now looking at the 26-period EMA as resistance as they have been rejected twice already. There is a clear shift in momentum in the really short-term, however, bulls are still extremely comfortable and even welcome such moves as they will cool off RSI levels and allow bulls to see more continuation in the future.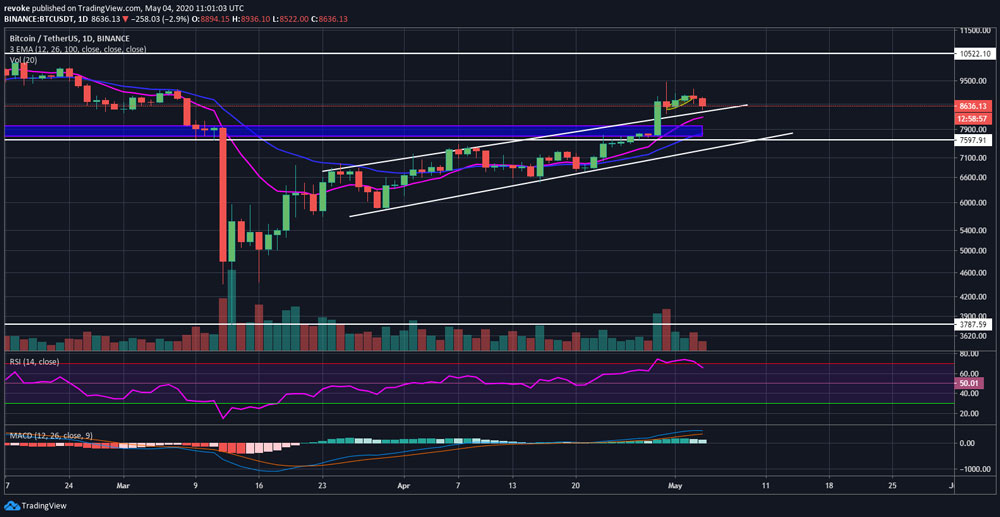 If we look at the daily chart, Bitcoin is still far away from the 12-period EMA, currently located at $8,282. This support level is one of the most important in the short-term, ideally, the bulls would like to see a bounce from this level if bears see further continuation.
However, even if the bulls lose the 12 and 26-period EMAs in the daily chart, they will still be in control as the last higher low is located at around $7,400. As long as the bulls can defend that level, the daily uptrend will remain intact.
Bitcoin Halving Is Less Than 8 Days Away
There is a lot of uncertainty surrounding this crucial event for Bitcoin as traders are not sure if Bitcoin will crash, continue with its uptrend or remain stagnant. Bitcoin has been in a massive bull run since March 12 but how long can it run up for? Is the halving event going to be a classic example of 'buy the rumours, sell the news' scenario?
History tells us that Bitcoin doesn't really react on the day of its halving or even a few days later but it does seem to go on a colossal bull run several months later.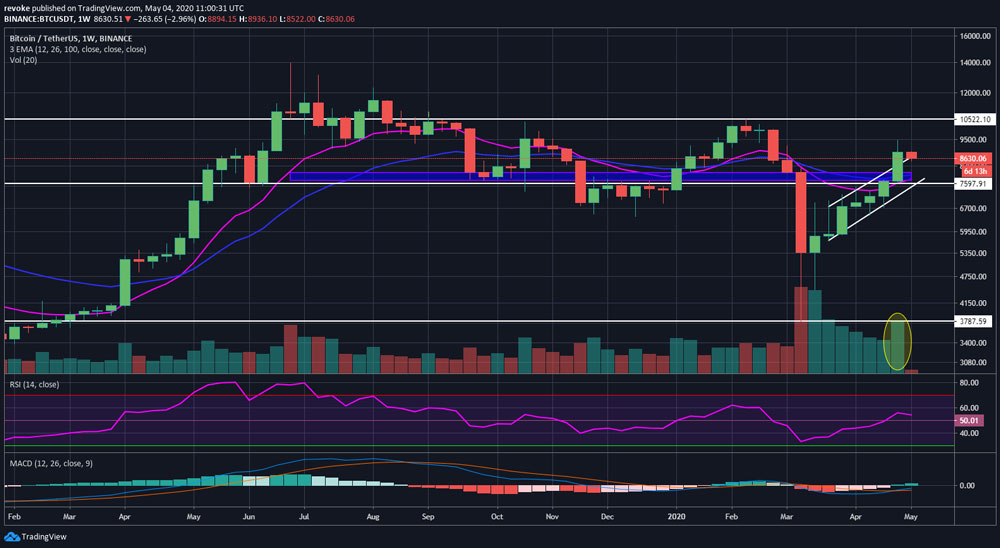 The weekly chart is now looking to shift towards an uptrend as bulls are actually close to breaking the top at $10,500. Bitcoin has seen increasing bullish volume the last week and EMAs are closer to a bull break now. The MACD is already bullish and continues to climb and the bulls have a ton of space to work with.
The bulls can either set a higher high directly, or a higher low compared to $3,782 and then break above the last high to create an uptrend. Either way, the chart is now clearly favoring the bulls even if it's still in a downtrend.