Bitcoin plunged as much as seven per cent over regulatory concerns as the Federal Reserve meeting weighed on the U.S. stock market this week.
The biggest crypto token by market cap was trading at $43,622 apiece on Monday, September 20 (11 am UTC). Alternative tokens were also marching in the red zone, and dropped by double-digits, including Ethereum, XRP, Cardano, and Dogecoin, as per CoinMarketCap data. Meanwhile, the global crypto market observed a sharp dip of over 9 per cent. The overall crypto industry market cap tumbled below the 2-trillion mark.
After the recent dip, BTC has signaled at its support level of US$ 38,000 apiece. However, the virtual token has the nearest resistance level at $50k amid the volatile trading session.
If BTC falls below its first support level then it may check in its second support level at $30k. The trendsetting crypto witnessed a trading volume surge of almost 28 per cent to $34.66 billion against its market cap of $820 billion.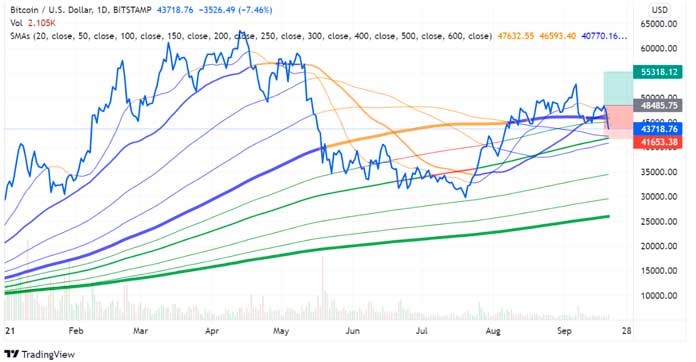 BTC/USD YTD price chart against multiple moving averages.
While Bitcoin has been moving in the range of $43,000 to $48,000 per token for the last 24 hours, the spot price is still well below crypto analysts' predictions. Meanwhile, experts have been marking catalysts such as stricter regulations across the US and Europe, and heavy-sell off due to Evergrande's debt crisis-led turmoil in stock markets.
Amid the sharp drop, El Salvador president Nayib Bukele posted on his Twitter handle "we just bought the dip, by adding 150 new BTC coins, and now El Salvador holds 700 coins."
The total value in fiat of BTC tokens acquired by El Salvador amounted to nearly $32 million as of September 20, 2021. In the first half of this month, the Latin country had added 150 coins on the day it had allowed bitcoin as a legal tender and became the first nation to do so.
How quickly will the crypto market recover from this blow?
Mainstream investors have been staying away from the volatile market today and expecting some sort of consolidation in the upcoming days.
The crypto market is responding to the latest fear, uncertainty, and doubt (FUD) around the regulation of stablecoins, which are rivals to sovereign currencies such as US Dollar and Euro. The Financial Stability Oversight Council is likely to classify these non-volatile tokens as fundamentally risky. Thus, the overall market might get impacted due to heavy regulation around stablecoins.
Once these regulations go public, the crypto market is poised to rebound. In the short term, crypto tokens may witness a downward trajectory.