According to a report, the cost of Bitcoin transaction fees experienced a significant increase, reaching its highest level in nearly six months. This increase is attributed to the resurgence of a phenomenon known as "Ordinals."
The average Bitcoin transaction fees reached a value close to $6 on November 7, representing a significant increase compared to previous periods.
The primary cause of this rise in transaction costs is the proliferation of "Ordinals."
Ordinals, in this context, refer to non-fungible tokens (NFTs) that store data directly on the Bitcoin blockchain.
🆕 BRC-20 coin $RATS is clogging up the mempool, causing a significant rise in Bitcoin transaction fees.

Can anyone give us more information about this token? pic.twitter.com/O7EAPHy83F

— Ordinals Wallet (@ordinalswallet) November 4, 2023
In the past, they had already caused network congestion issues due to the amount of space they occupy in the blocks.
This phenomenon is particularly evident in the variety of Ordinals called BRC-20, which add a significant number of transactions that miners must process on the chain, leading to increased competition for confirmations.
The network congestion had a direct impact on the time required for transactions to be confirmed.
In this scenario, higher fees became a necessity for those who wanted their transactions to be processed more quickly and efficiently.
This inevitably led to an increase in the average transaction fees on the Bitcoin network.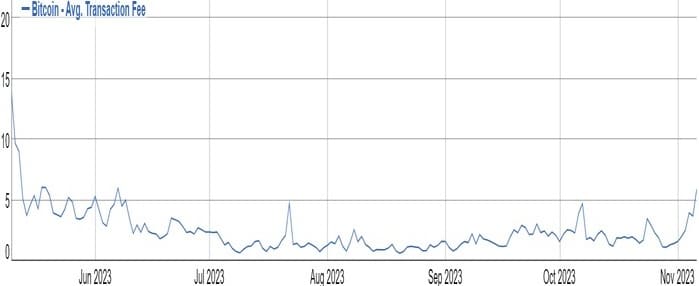 Bitcoin Miners Reap Benefits
The congestion is clearly evident in the Bitcoin "mempool," the area where pending transactions are stored.
Currently, there are over 120,000 unconfirmed transactions in the mempool, a significantly higher number compared to early October when there were fewer than 30,000 transactions waiting.
Despite the challenges this poses for Bitcoin users, the situation has resulted in notable benefits for network miners.
According to Glassnode, on November 6, 8.5% of miners' revenue came from transaction fees, marking the highest daily proportion since early June.
Bitcoin users have expressed concerns about the possibility of new projects involving Ordinals continuing to impact block space and maintaining high fees in the future.