With the start of 2021, the world's largest cryptocurrency, bitcoin, has been enjoying the bullish trend on the charts. Since Bitcoin attended an all-time high of $40,000 it's been subject to minor corrections along the way, especially after hitting all-time high. Following bitcoin's bull run, this week the second-largest cryptocurrency, Ethereum, whose price set a new historical record of $1,927 on Thursday. Although there was a significant correction on Thursday, investors and analysts of digital assets have indicated that Ethereum may usher in a bull market in the long run. 
The resistance around its current ATH has changed from its previous high of $1,877 and traded to a new all-time high at $1,930. Ethereum's market valuation now stands at $221.39 billion with a trading volume of $26.10 billion in the past 24 hours. At the time of writing, Ethereum is trading at $1,931 up 0.38% on the daily and 8.99% weekly.
Ethereum Price Analysis
In the last two years, Ethereum has achieved impressive results. Since the beginning of 2020, ethereum's price has increased multifold. In the first three weeks of 2021, Ethereum's growth rate reached 90%. Alex Kruger, American professional trader and analyst said that Ethereum price is about to hit a new price range between 1500-2750 US dollars. 
#Ethereum will soon pass to the next level.

These are the levels to watch beyond all time highs: 1500, 1600, 1920, 2000, 2240, 2500, 2750. pic.twitter.com/suCZtt7Iv8

— Alex Krüger (@krugermacro) January 19, 2021
Ethereum's price increase on Tuesday has brought its total market cap to more than $160 billion, once surpassing the $135 billion market cap of Wells Fargo Bank, $132 billion Citibank, and $137 billion, Morgan Stanley. Also, the market value of Ethereum has a deeper significance with these traditional centralized banks: the rapid growth of Ethereum's market cap reflects that it has successfully attracted many users as a tool for defi services to replace the traditional financial system.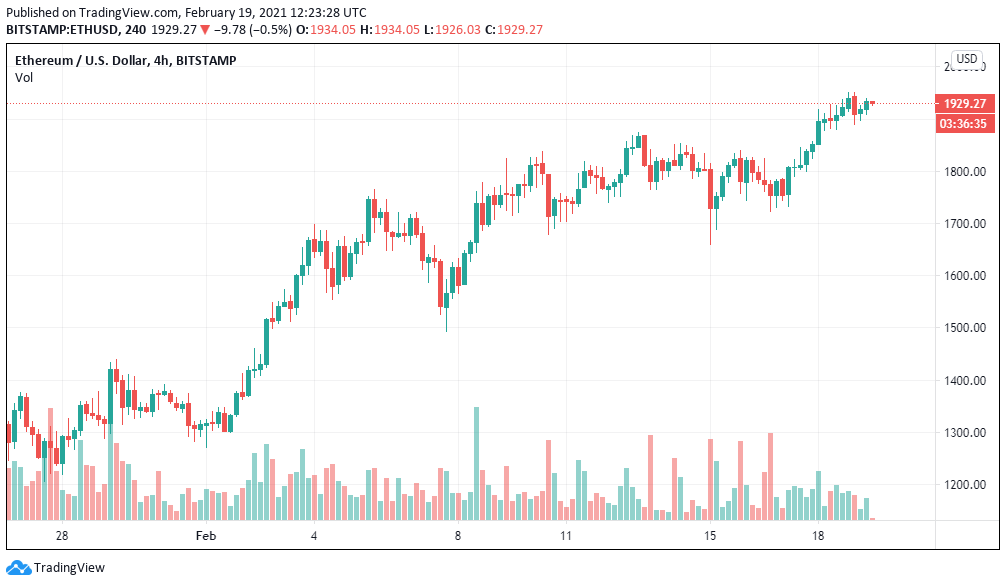 Ethereum is in the positive territory as the moving averages as well as the RSI indicator depicted a potential price rise. If the price fails to surge and sustain above the $1,930 mark, the pair may stay under this range for a few days. The next major support is near the $1,800 level. If ethereum price will continue to fall below immediate support, next support could be found at $1,693 and $1,459 occur simultaneously with the ascending support  trendline. A fall below this level ($1,459) will be an alarming situation for ETH as its retest of the MA 50 support at $1,300 level.