The Central Bank of Nigeria (CBN) on Friday barred deposit money banks and financial institutions from dealing with cryptocurrencies and said that it was time and again warning users of virtual currencies regarding the risks associated with transactions in cryptocurrency. 
In the past, the Nigerian government and the central bank of Nigeria have released numerous warnings against dealing in virtual currencies. 
CBN has issued a circular informing financial institutions and other deposit-taking entities against facilitating cryptocurrency transactions.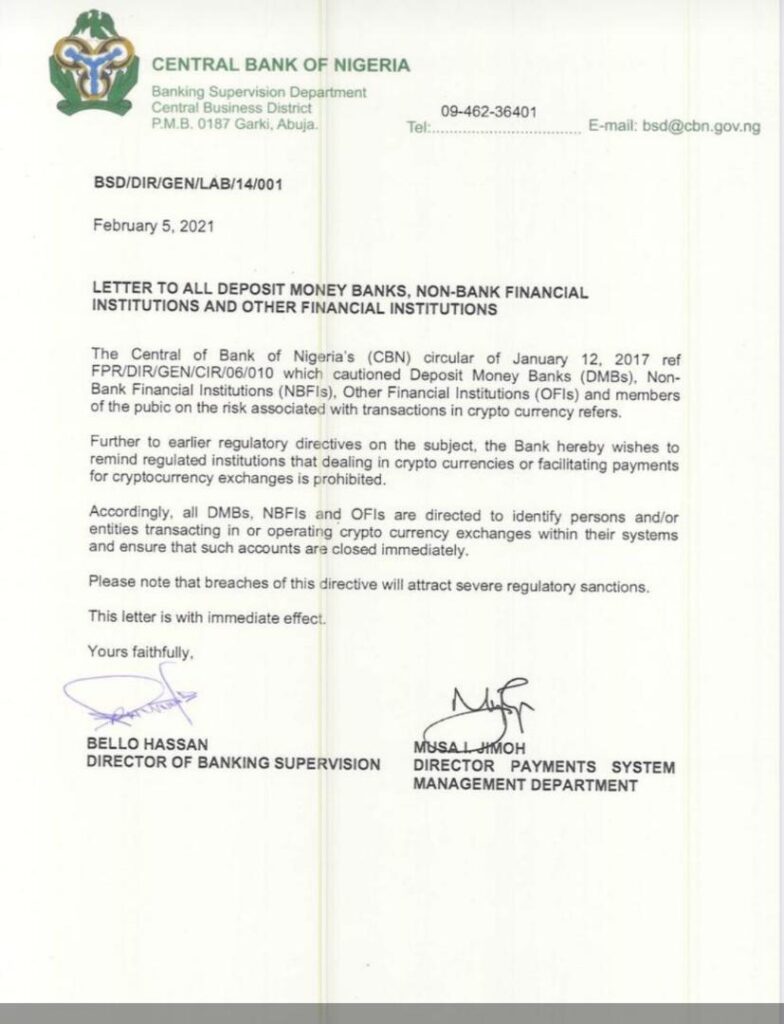 The CBN's circular indicated that dealing in cryptocurrencies or processing payments for cryptocurrency exchanges in the country is restricted among regulated financial institutions and failure to adhere to this mandate will result in "severe regulatory sanctions." 
In a recent interaction with Cointelegraph, Osita Nwanisobi, the acting director of the Central Bank of Nigeria's communications department, narrated that Nigerian commercial banks had earlier been warned not to indulge in the crypto market.
No dedicated regulation regarding cryptocurrencies has been embraced in the country yet. However, nigerian authorities have exhibited a negative outlook towards virtual assets on many occasions. In september 2020, Nigerian SEC said it would regulate cryptocurrency transactions to provide protection for investors and to ensure transparency in transactions.
Effect of CBN's Recent Mandate on Nigerian Cryptocurrency Market
Following CBN's recent circular, FlutterWave, a popular african fintech firm that processes transactions for the largest nigerian exchange, have already notified their users on suspension of service in the wake of the directive.
Not Just cryptocurrency firms but cryptocurrency holders have also reportedly encountered problems with exchange withdrawals, as banks have denied to process crypto related transactions. Per reports, some banks are even alarming to shut user bank accounts if they continue to transact to and from cryptocurrency exchanges.
Nigeria's thriving crypto market
The Nigerian crypto economy is rising and thriving despite the challenges that the year posed. Per reports, Nigeria is witnessing a steep spike in the adoption of cryptocurrency as a store of value, wealth, and settle daily payments. Another popular use case for crypto which is most adapted among local vendors and businesses in Nigeria, is assisting them hedge against weak nigerian currency naira which is caused by the shortage of USD in the country.

Paxful, the largest cryptocurrency exchange in Africa, in their reports released at the end of december 2020, portrays a shining image of African cryptocurrency market and active users. There are over 620,000 active Nigerian users on its platform, reports also highlight that Nigerians traded nearly $15 million worth of BTC in the month of April alone. However the worst effect of banking ban is yet to witness by nigerican cryptocurrency market.