The largest cryptocurrency in the world, Bitcoin peaked sharply on Monday, after soaring to a record high of $43,800 BTC continued attaining new all time high.
The recent bitcoin rally was fueled by Tesla CEO Musk. On Monday, Tesla announced that it expects to start accepting Bitcoin as a form of payment in exchange for its products "subject to applicable laws and initially on a limited basis.". According to the latest SEC Filing, Tesla disclosed an investment of $1.5 billion in Bitcoin. This huge investment will provide liquidity in the cryptocurrency once Tesla begins accepting bitcoin for payments. As soon as this news broke out, Bitcoin pulled up in a short-term and quickly climbed above the $40,000 mark. After that, the upward momentum continued, exceeding $47,000 at one time, with an intraday increase of 21% and a record high.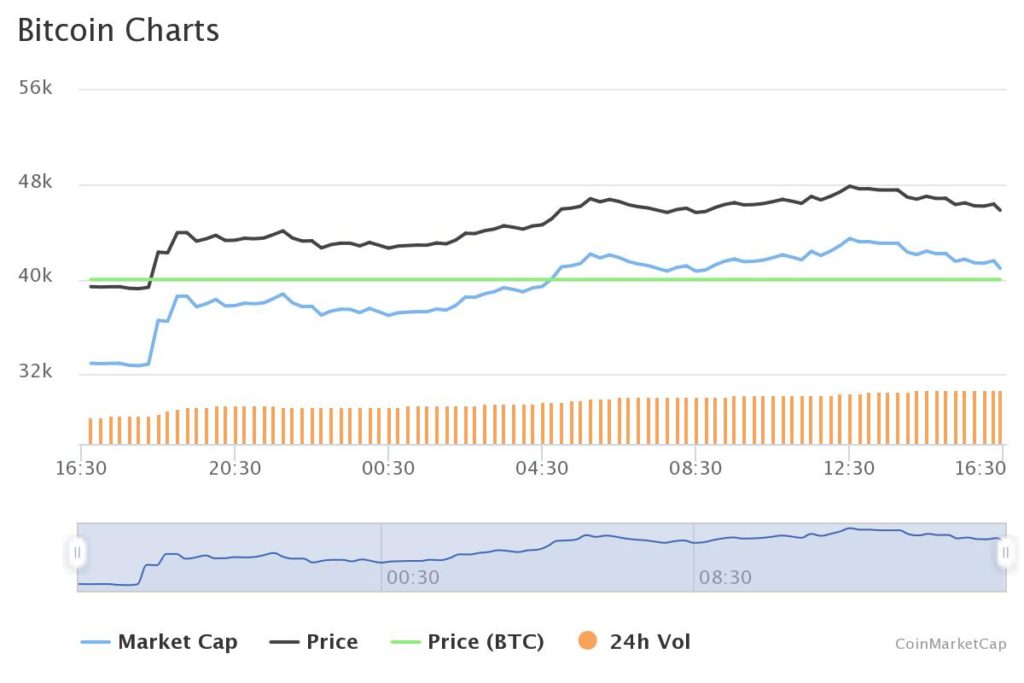 BTC surged past the much-anticipated $48,000-mark a few hours ago, rising high to touch a new record of over $48,000 on certain exchanges. With the steep rise in the price of bitcoin, trading volume recorded a 90% increase in the last 24 hours and the market cap of Bitcoin also went past $800 billion.
The Palo Alto-based electric vehicle and clean energy company led by Elon Musk unveiled the new strategy in the U.S. Securities and Exchange Commission filing, mentioning its investment in bitcoin and other "alternative reserve assets" may grow. With this move tesla becomes the first automaker to accept cryptocurrency payments. Buying a vehicle which indeed is a large purchase, could make Bitcoin a better fit, however volatility in Bitcoin could pose risk to merchants accepting it.
The "Musk" Effect on Bitcoin
Musk has realized his huge influence in the crypto currency market.The influence of Elon musk on cryptocurrencies has even been compared with the influence of Fed Chairman Powell on the US stock market. The "Musk" Effect on cryptocurrency market is being tested on several occasions as when Elon Musk added "Bitcoin" signature on twitter, or talked about cryptocurrency or dogecoin in an audio live broadcast, the market reacted to it accordingly.
The erstwhile self-proclaimed CEO of Dogecoin has accelerated Doge's price several times with his words. This shows his bewildering influence in cryptoverse. On Monday, when the news about Tesla's $1.5 investment broke out, it added rocket fuel to ignite Bitcoin's price action and became the strongest support.