As the cryptocurrency market has grown, more and more projects have gained entry into this industry. This has also led to new norms and trends in the industry as every project tries to inculcate innovative features to gain more relevance. They have to stay a step ahead to compete in the market because users and investors are now highly selective in their choices. However, many new projects are successful in doing so but many at the same time, struggle poorly. The OMG Network faced a somewhat similar phenomenon recently.
The users of the OMG Network (OMG) were eagerly waiting for the BOBA airdrop snapshot. The snapshots took place and they were assured that they will be receiving BOBA tokens by the end of this month. However, as this happened, the value of their OMG tokens dropped drastically.
The value of OMG dropped by a staggering 33%. It was valued at around $19.35 and it crashed to $13, soon after the completion of the snapshot. At the time of writing, the OMG token is valued at around the $12.80 mark.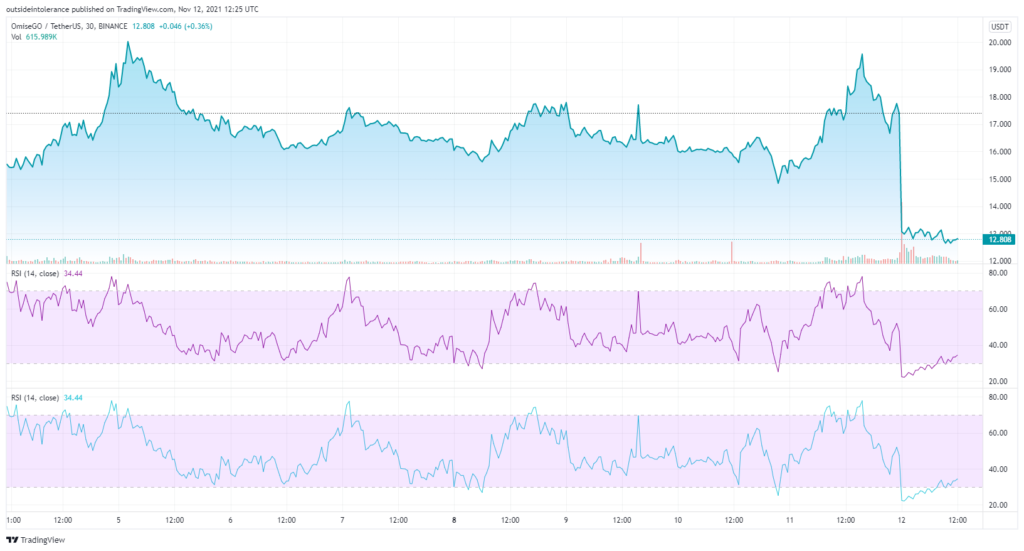 'Bizarre activity alert'
After the snapshots, OMG token holders will now receive BOBA which is the governance token for BobaDAO. They will receive these tokens on November 19. Boba is an exciting project as it offers an optimistic rollup layer-two solution to help in scaling Ethereum smart contracts. Nonetheless, now BOBA token holders will be able to vote on proposals for Boba DAO.
However, the recent event that happened after the snapshots has raised concern in BOBA and OMG followers. The Boba network tweeted about the occurrence of snapshots at the Ethereum block 13597967 and on Boba Network block 15354. However, after about 10 minutes a tweet surfaced reporting the 'bizarre activity alert' on the drastic price fall.
Previously, the Boba Network announced the airdrop on September 20th. At that time, the OMG token stood at around $9.50. Since then, OMG has experienced two price hikes, and it recently crossed $19.30 to achieve a four year high.
Therefore, experts and analysts believed that OMG has the potential to go further up close to the Boba announcement. Many users also took a deep interest in the airdrop, anticipating the token's bull run. Also, 10 top crypto exchanges including the likes of Binance, FTX, and Bitfinex are supporting this BOBA airdrop for its users. However, the plunging price came as a shock for the network and its supporters.