Cryptocurrency exchanges are becoming extremely relevant to the consumers of the world of digital assets. These exchanges play a crucial role in bridging the gap between people and cryptocurrency markets. People from all over the world acquire the services of these exchanges to start a crypto career. These exchanges allow you to buy, sell, trade, hold, and exchange various digital coins and tokens.
Also, the tokens listed on popular and reliable cryptocurrency exchanges have a better chance of making it big in the market. These tokens build a better reputation and credible cryptocurrency exchanges only enlist projects that have proven their roadmaps and goals. This is how investors and traders come across good projects that provide them with a better chance of making it big in this form of market. Nonetheless, there is growing competition between different cryptocurrency exchanges to have the most users.
They are basically categorized into centralized exchanges (CEX) and decentralized exchanges (DEX). The difference between the two is that CEXs are regulated by a higher authority. However, DEXs prioritize the anonymity of users and follows the principles of decentralization.
Chainalysis has published a report that shows DEXs are growing at a much faster pace than other crypto exchanges. However, the report also emphasized that CEXs are also quite popular but the growth rate of DEXs is significantly higher. The report drew a comparison between DEXs, CEXs, OTC brokers, derivative platforms, and high-risk exchanges. The data showed results from the timespan of Q1 2019 to Q3 2021. Within this time frame, the number of DEXs increased from 100 to 205. However, at the same time, the number of CEXs increased from 100 to 120 and dropped back to 100. The number of OTC brokers saw a 50% increase, whereas derivative and high-risk exchanges experienced a drop.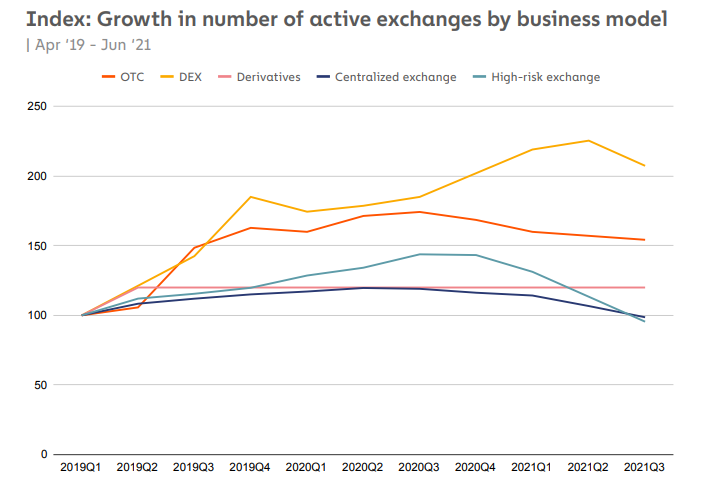 Cryptocurrency exchange Binance still reports strong figures
Despite DEXs increasing popularity, the world's number one cryptocurrency exchange, Binance is still towering over its competitors. The centralized exchange has faced setbacks and regulatory complexities all over the world but it is still going quite strong. Binance has reported the highest web traffic in the month of October with a total of 171 million visitors. These figures are 12% more than the ones recorded a month earlier.
On the other hand, Coinbase and PancakeSwap ranked second and third on this list. Coinbase had 91 million visitors whereas PancakeSwap recorded 25 million visitors. In terms of volume, Binance has topped off its margin by a considerable margin as well.