In a recent development, Helium announced that it would be shifting to the Solana (SOL) at the end of the next month. The upgrade would encompass all wallets, hotspots, and the Helium network state. Similarly, the migration would take place over a 24-hour transition time frame and the current Helium blockchain would be halted. Despite that, all data transfer and Proof-of-Coverage activities would remain unaffected.
The Helium network is migrating from its current L1 to Solana at the end of March, bringing with nearly 1 million hotspots worldwide across the LoRa and 5G networks 🔥https://t.co/Bn847ghLik

— Solana (@solana) February 20, 2023
As soon as the chain is halted, validators would not produce blocks and transactions would not sync as well. A final snapshot of the blockchain would be taken after the migration of accounts to the Solana blockchain. As long as hotspots are concerned, they would be minted as NFTs.
Solana (SOL) Bulls Ride High and Far
Amid recent developments and news, it is evident that the Solana (SOL) bulls have made a comeback. Keeping the merge in mind, the SOL token has managed to surge by approximately 11.63% overnight. As a result of the increase, Solana (SOL) has established itself as the largest gainer over the last day. The recent increase has pushed the price of Solana (SOL) to nearly $26.34. In the last 7 days, Solana (SOL) has gained a whopping 28.15%.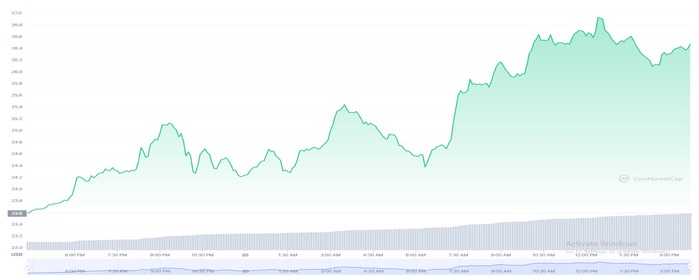 Furthermore, price actions in the previous week pushed the market capitalization of Solana (SOL) across the $10 billion mark. Over the previous 24 hours, Solana future positions worth more than $5.86 million were also liquidated. Keeping the entirety of these liquidations in mind, almost 70.26%, accounting for $4.12 million were short trades.
The Fundamentals of Helium's Migration to Solana
After the completion of Helium's migration, a new version of the Helium Wallet app would be available for the users. Despite that, the history of the Helium Layer 1 blockchain would also remain public. Users would only have to update their existing application. The good news is that HNT holders would have the opportunity of using other wallets within the Solana ecosystem.
It is important to know that the shift to Solana (SOL) kicked off when the majority of the community voted in the favor of HIP-70. Improved mining, reliable data transfer, and better ecosystem support are some of the benefits the migration would offer. There is a lot of anticipation that the merge would work in favor of Helium and Solana. As a result, the SOL token is expected to rise further in the next month.