Bitcoin is now hours away from its third halving and the bulls are currently trying to push the digital asset above $9,000 before it ends. Bitcoin is currently trading at $8,925 and has hit $8,990 a few minutes ago. A lot of trading volume is pouring in anticipation of the halving but it's unclear whether Bitcoin will sustain a break above $9,000 or crash afterward.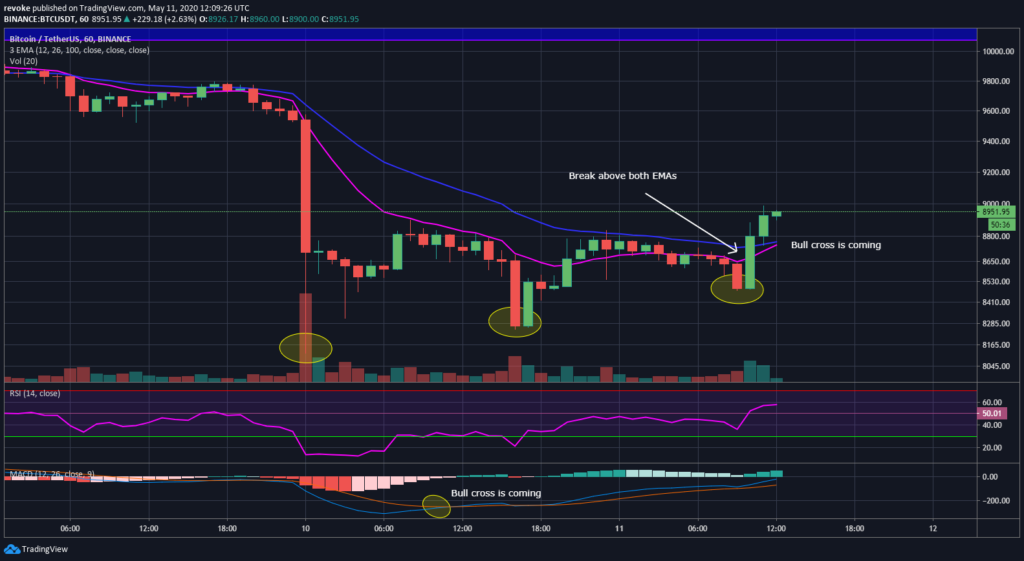 The most interesting charts are now the hourly and 4-hour charts. On the hourly, bulls have been able to break above the 12 and 26-EMAs and they are currently trying to break above the 4-hour, 12-EMA.
The bulls also managed to set 3 higher lows and it's clear that bulls are looking to buy Bitcoin whenever it has these small 2-3% crashes. At the same time, the bulls are having a tough time breaking above $9,000 even though they are willing to buy the dips.
Bitcoin Is Still Bullish Despite The Recent Crash
Obviously, the bulls didn't want to see a 20% crash yesterday, however, they managed to close above the low of $8,522 and defended the daily 26-EMA. The daily uptrend is not entirely lost unless the bears can see a lower low compared to $8,117.
The bulls are now looking to break not only the 4-hour 12-EMA but also the daily 12-EMA which are basically located around the same price point, $9,000. If this level is broken, the bulls will most likely see a significant spike to $9,200-9,500, however, this doesn't mean they will be able to sustain the move.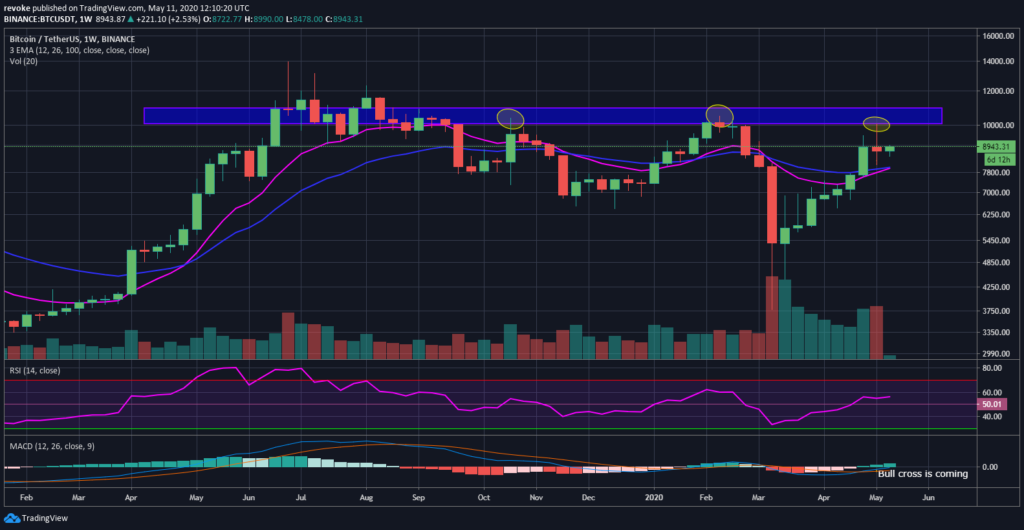 The long-term is clearly still bullish and the weekly chart is still close to an uptrend; however, bulls are cautious as the last 3 times Bitcoin attempted to break and stay above $10,000 failed and crashed the next weeks.
Something similar might be happening now, however, there are other factors at play now, most notably the trading volume behind the recent moves which is much higher than what it was the last few times.
The halving is good for Bitcoin, basically, everyone knows and thinks that, however, it's not clear whether it will help Bitcoin today or in the future. The last 2 halvings had no real impact on Bitcoin the days before or after, however, the digital asset did eventually embark on 2 massive bull runs a few months after the event.
Will we see something similar this time? Maybe, however, the last few days have been extremely volatile which means that so far, history hasn't been repeating.