Bitcoin has done it once again breaking a crucial resistance level at $10,000. What was looking like a possible double top around $9,500 has turned to a significant bull break leading Bitcoin above $10K. The bulls did not manage to push the digital asset further but the rejection hasn't been significant and BTC is still trading at around $9,800.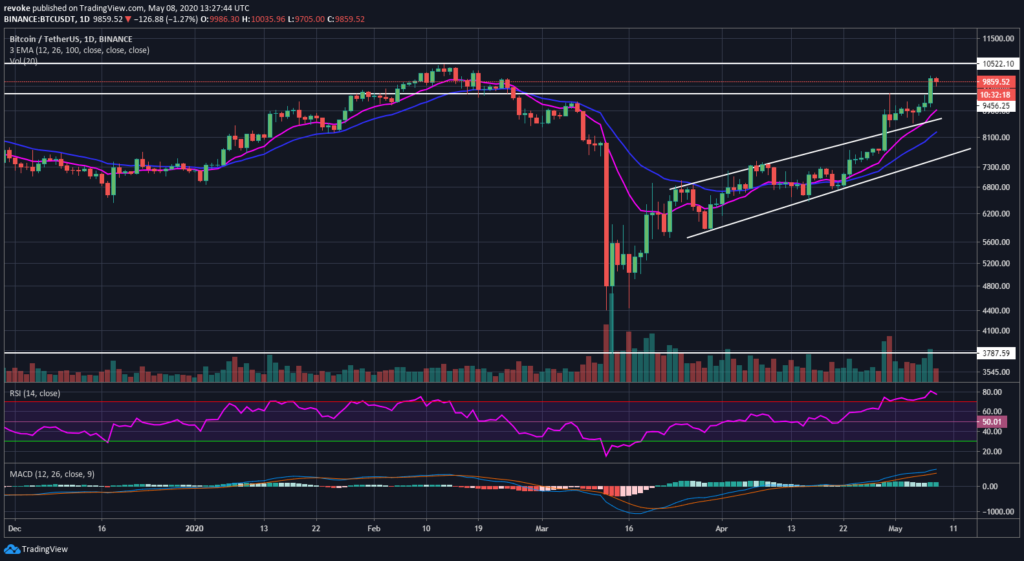 With a new daily high set, the bulls are extremely comfortable right now knowing that even a $1,000 crash would not be enough to break the uptrend. Bears would need to see a 14% crash to break the current trend.
Bitcoin FOMO Is Pushing The Price
FOMO stands for 'Fear Of Missing Out' and it happens every time an asset goes up for an extended period of time. Regular people are talking about Bitcoin again stating it's the future. Whenever you see news outlets, websites, youtube videos, tweets and other posts all talking about how Bitcoin will explode and reach ridiculous prices, you know the FOMO effect is in full force.
Although FOMO has the ability to push the price up, there is a lot of risk behind it as most people buying now are looking for a quick profit. If the price starts going down again, and it will, most of the investors that have bought Bitcoin recently will start selling really fast, they do not support Bitcoin. This creates a snowball effect that eventually leads to a 'long squeeze' which forces major investors to close their positions or get liquidated which further pushes the price down.
This could happen if the day of the event, Bitcoin starts going down as a lot of traders are expecting that exact situation.
BTC is not that strong right now even though it just broke $10,000. If we look at the daily trading volume on Binance, yesterday, Bitcoin barely had more volume than other days. This is surprising considering bulls managed to break a crucial and psychological level like $10,000. It shows bulls do not have a lot of strength.
It seems that Bitcoin is only going up through FOMO and a lack of strength of the bears which are clearly hesitant about jumping in. $10,000 would have been a clear entry level for bears but the number of shorts has shrunk, not increased. On BitMEX, Bitcoin longs still dominate shorts at 83% vs 16% with more than $300 million in longs.