During the early trading hours on Feb 11th, the popular defi token Yearn.finance (YFI) surged to hit a new all-time high at $45,900. The Massive YFI Rally was fueled after Grayscale's YFI trust registration was announced.
The asset management firm Grayscale Investments LLC. registered the entity "Grayscale Yearn Finance Trust (YFI)" with the U.S. State of Delaware at file number #5061770.
As per the announcement, Grayscale Investments registered an LLC for a prospective Yearn Finance (YFI) Trust, highlighting that mainstream financial investors may soon have access to the governance token.
According to the recent update, Grayscale currently holds $36.2 billion worth of assets under management, with its Bitcoin trust holding around $29.7 billion.
It is worth noting that, Previously, the firm had formed such a trust for major altcoins. But unfortunately those altcoins did not see the same price surge. Right now, the firm includes 37 different cryptocurrency trusts registered.
Yearn.Finance Partners With BadgerDAO
In order to aid Yearn Finance protocol to become the most emerging DeFi Ecosystem, the platform had also collaborated with Badger DAO. The main aim of the partnership is to build required products and infrastructure that will assist to accelerate Bitcoin as collateral across other blockchains.
Together, Both the platforms are planning to build the "best-in-class Bitcoin vaults" for the DeFi space that will provide BTC holders to fully integrate and participate in the growing DeFi movement.
The DeFi Darling YFI Hits All-Time-High
During the 2020 summer, YFI was one of the most popular yield farming defi tokens. Currently, Grayscale's filling has given yearn finance a momentary push, which could help YFI Price rise up and shine.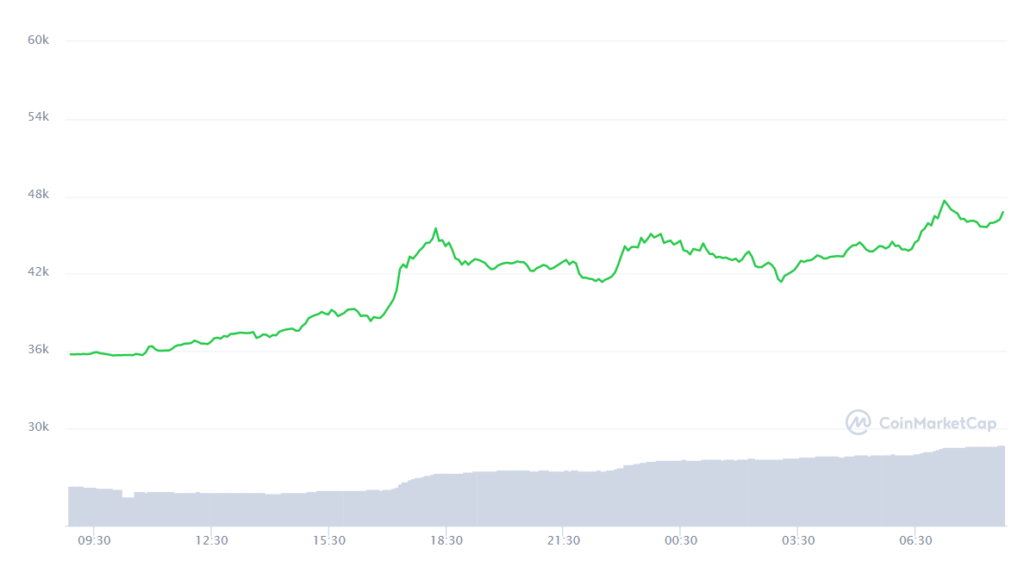 The DeFi token gained 24.5% since yesterday's early trading hours at $36,300. YFI Price broke beyond the resistance from the symmetrical triangle. The technicals indicate that the YFI price is all set to break $50K and further rally to $53,500.
At press time YFI is trading at $46,150.66 with more than 30% gain. The defi token's area of support lies between $30,500 and $31,500. A positive breakout above $47,000 may see YFI reach $50,000 before Bitcoin reach.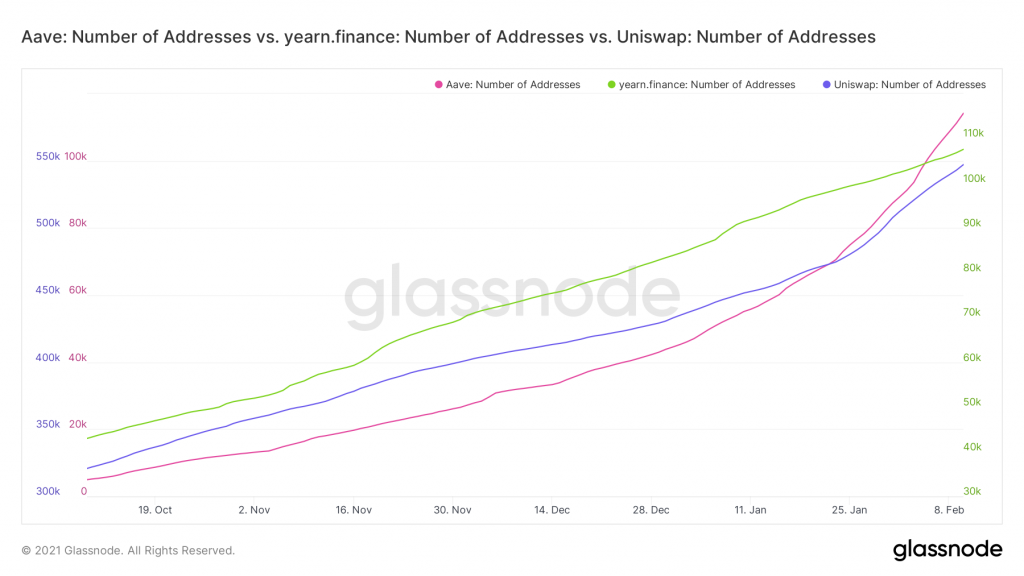 Along with the price surge, the number of Yearn Finance addresses also surged at a rate comparable with top Defi protocols like Aave and Uniswap. Earlier this month, Uniswap's address count slightly overtook YFI, and Aave's address count is still lower than YFI.