Many brands and organizations have helped in popularizing the idea of crypto and NFT art among the masses. They raise more awareness about the concept. Thus, people are getting more interested to explore the new field. This is why many new cryptos and NFT art projects have made their way into the mainstream market. The number of these projects is only expected to increase from hereon forwards.
Non-fungible tokens (NFTs) are digital assets that are going out for hundreds and thousands of dollars in the market. They are becoming an integral part of the music and entertainment industry. Many bands, artists, singers, and movie makers are using NFT platforms to gain hefty profits from their original content. They also receive their due credit, as NFTs fight against piracy and plagiarism.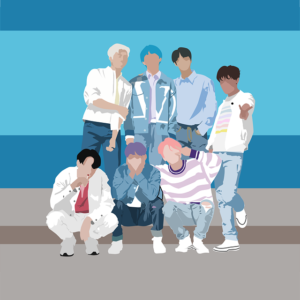 A joint NFT art venture
In a recent development, NFT gaming firm Animoca Brands have partnered up with a Korean record label, talent agency, and music production company named Cube Entertainment to build a K-pop music metaverse. An announcement was made for the joint venture on the website of Animoca Brands on November 15.
The partnership will see Animoca Brands and Cube Entertainment create NFT in order to celebrate popular actors and K-pop musicians on Cube's roaster. The NFT art project will constitute of artist portraits, album art, and digital sound sources. This is considered to be a major development in the NFT industry, as all these big names will fuel the popularity of crypto and NFT in the region.
The Chief Executive of Animoca Brands, Yat Siu expressed his excitement upon collaboration with Cube, as it would 'make the open metaverse a reality.' Animoca further stated that this partnership would enable 'true digital property rights and other blockchain benefits' for both partners.
The CEO of Cube, Ahn Woo Hyung stated that this collaboration will be 'an important beginning for leading the global digital culture market and advancing the digital content industry.'
Cube manages about 50 K-pop artists, including some big names. So, it is likely that their popularity will drive the marketing and advertising of the project. As a result, it will make it more valuable and fan-favorite.
Animoca has been a key role player in promoting the growth of NFTs. It has invested in different projects and has supported many NFT projects to trigger their growth. The company has also collaborated with Formula 1. Therefore, this recent collaboration is expected to make some waves in the NFT industry soon.