As the cryptocurrency arena keeps on growing, more and more innovative features are being introduced in the market. The development of decentralized finance (DeFi), decentralized applications (dApps), and non-fungible tokens (NFTs) is a living example of this phenomenon. As a result, there have been more collaborations and partnerships between popular crypto projects and these new concepts. Chiliz is the latest addition to this extended list.
Crypto projects continue to partner up with major sports leagues, teams, and players. These teams and personalities try to engage with their fans and followers through limited edition NFTs. Meanwhile, they also offer other crypto and blockchain perks to these fans. Several cryptos also show their presence by buying stadium rights, acquiring primetime commercials, and sponsoring jersey names. Chiliz has also utilized its association with sports to enjoy an increased interest from the users.
CHZ goes booming after new feature on Chiliz
Chiliz has helped people to interact with their favorite teams and players. Chiliz is also the blockchain network behind the fan engagement platform, Socios.com. However, the CHZ token that hit a low of about $0.25 in September was struggling to gain its full potential. But a few recent developments helped the coin to grow and break out of the constant bearish trend. The token has spiked for over 170%, achieve a high of around $0.65. At the time of writing, CHZ is valued at $0.56.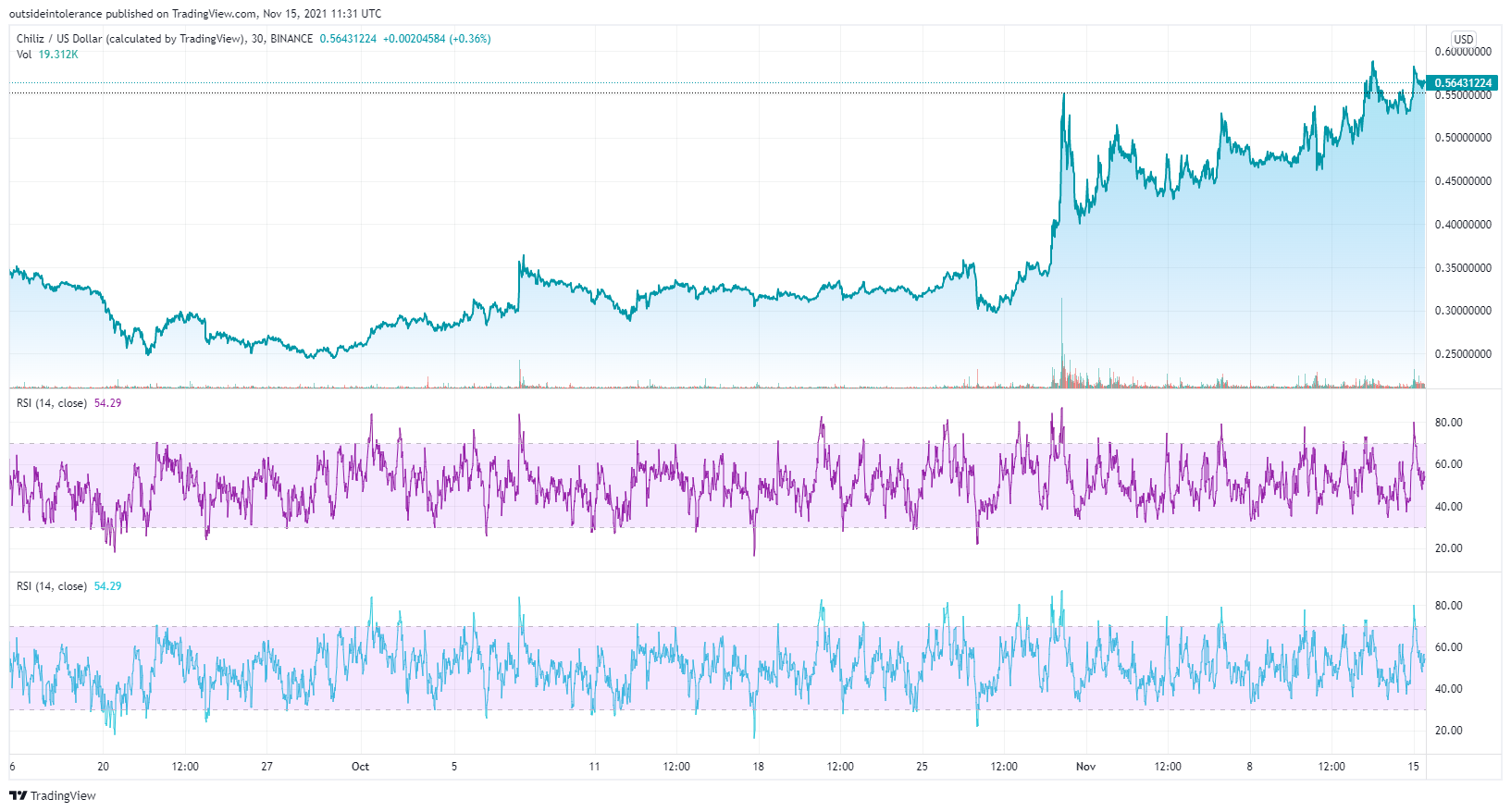 The Chiliz token is still looking positive to swing high in the coming days. However, the reason for its major outgrowth is the launch of live in-game NFTs, exchange listing for the coin, and its expanding ecosystem of partners. All of this has contributed to increase the investing interest in this token.
The first live in-game NFT drop for Chiliz dropped during a football game of A. C. Milan and A. S. Roma. Through this feature, new moments are now minted as NFTs and dropped to the wallets of fan token holders who previously predicted the correct outcome of the game. This announcement receive a lot of support for Chiliz, increasing the demand of CHZ as well.
Also, the bullish momentum of the token is supported by the addition of new exchange listings. It has also released new fan tokens for Manchester City, AC Milan, and Sao Paulo FC. Moreover, popular exchange Binance has also allowed users to earn rewards and token by staking BNB, BUSD, and CHZ. OKEx and eToro's crypto exchange have extended their support for CHZ. Lastly, ecosystem expansion is also strengthening the fundamentals of Chiliz.