The concept of cryptocurrency has gained immense relevance and recognition in the recent times. Apart from the big guns of the market, many other projects have also made a mark by growing significantly in the last couple of years. Furthermore, the expansion of crypto to the dimensions of DeFi and NFTs have also triggered the growth of many digital projects. It has given them the liberty to prosper by exploring new branches of the blockchain realm.
With the development of smart contracts in Bitcoin and Ethereum's blockchain network, concepts of DeFi and NFT have also experienced more adoption. Avalanche (AVAX) is one such platform that has experienced a major growth in terms of worth and adoption. It happened mainly because the smart contract leading platform, Ethereum has struggled with high costs and inefficiency.
Sky-rocketing upsurge from AVAX
AVAX was struggling in the crypto market after hitting the lows of about $12.30 on August 3. However, it has significantly rallied to achieve the high of over $49 in only 3 weeks. The trading volume of AVAX has crossed $1.4 billion, and it is currently being traded at $47.80. As the following graph shows, it touched the high of almost $49.80 on August 20, which means that it has closed the gap with the $50 mark, and might breach it to make new records.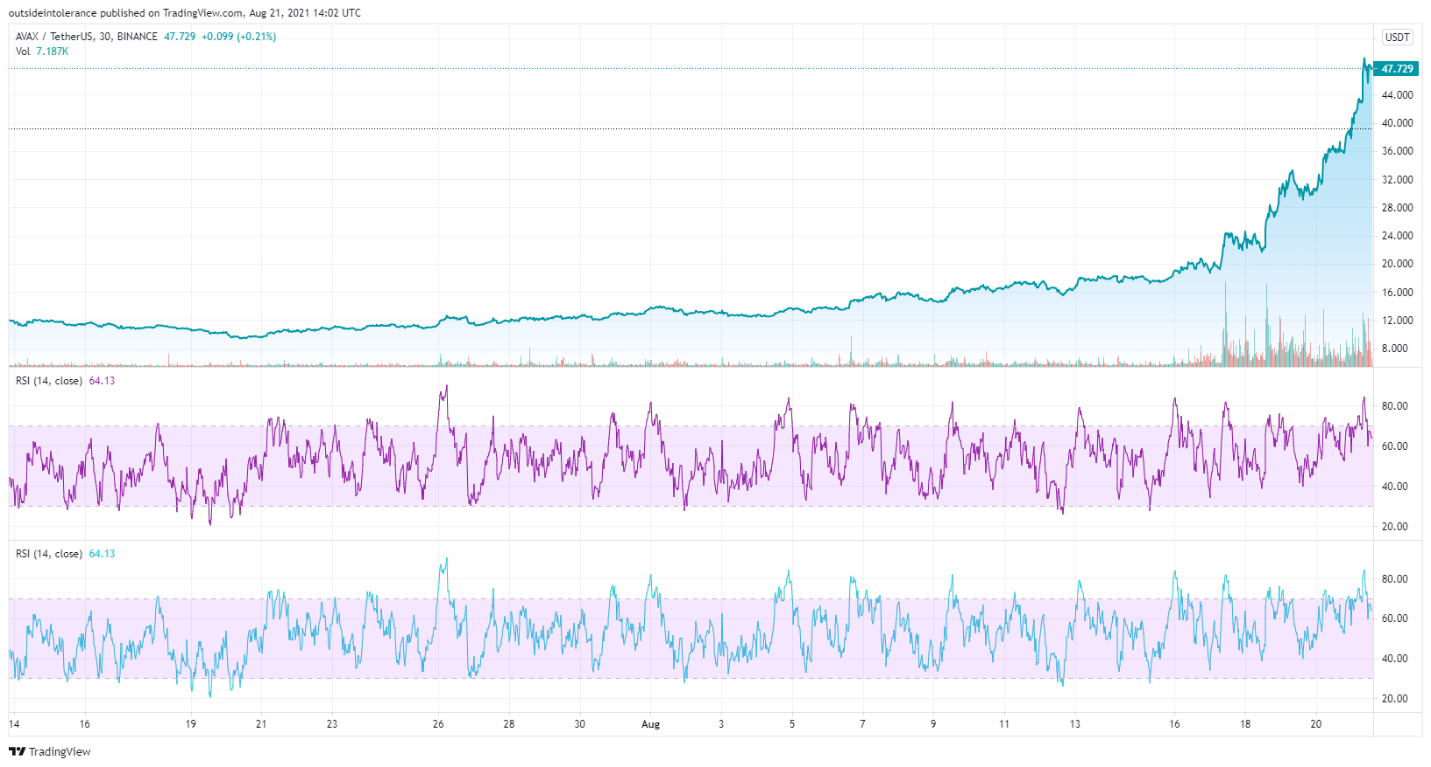 The primary reason for the success of AVAX is its rapidly growing DeFi ecosystem. It is a $180 million liquidity mining incentive program that was announced of August 18 through a tweet. This program allows to introduce more applications in the DeFi ecosystem of the platform. Furthermore, this is only the first phase of the program, as it has also planed a phase 2 with the allocation of $27 million worth of AVAX.
Experience the power of #Avalanche. Welcome to #AvalancheRush, the $180M liquidity mining incentive program in collaboration with leading DeFi dapps–both on and off Avalanche– starting with @aaveaave and @curvefinance. And, this is just Phase 1! https://t.co/YGrrVB7Uqc

— Avalanche 🔺 (@avalancheavax) August 18, 2021
Moreover, the release of the Avalanche Bridge (AB) on July 29 is also a reason for the bullish momentum of AVAX. This program allows the transferring of assets between the Ethereum and Avalanche Networks. Within two weeks of the launch, over $100 million in token value was transferred between the two networks. Users will be more encouraged to use platforms like Avalanche if Ethereum fails to lower down its transaction fees.
Lastly, another reason for the success of AVAX is its effective burning strategy that continuously reduces the supply of the token. The platform burns its transaction fees, and it significantly helps the community of the project. Thus, these reasons have ensured the price hike in AVAX which is believed to continue in the coming days.