After months of persisting red candlesticks, the cryptocurrency market has taken a sigh of relief. Many digital tokens are thriving with a bullish momentum, as they make a move upward to reclaim their gains.
Bitcoin and Ethereum, being the trendsetters have also made a commendable upsurge that has prompted many other altcoins to follow the similar trend and pattern. Cardano (ADA), Ripple (XRP), Solana (SOL), and Polkadot (DOT) have also impressed the crypto community with their performance.
Cardano is one of the most acclaimed crypto token after Bitcoin and Ethereum. Many investors and traders have shown interest in ADA, as it became one of the most talked upon token in the market. The start of 2021 was exceptional for the native token of the Cardano Network, and after struggling in the bearish market it has made its way to the top again. The investing lot is highly impressed with how ADA has fared in the recent times, as they anticipate for it to grow once the Alonzo Hard Fork upgrade hit the network.
Cardano surpasses the Binance Coin
In the recent bullish trend, Cardano took a step ahead and surpassed its previous all-time high of about $2.30, and reached a high of $2.55. As the graph below shows, the crypto token is currently at $2.51. The increase in the value of the coin shows that it is set to make a big upsurge in the market, and that the anticipation around the coin is real.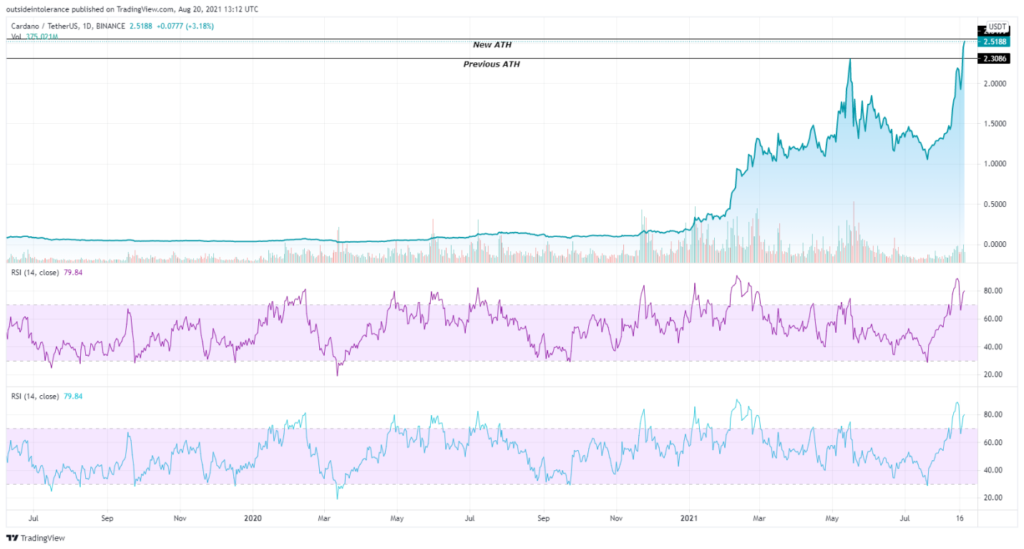 Moreover, the market cap of ADA has also breached the $80 billion mark, and has toppled BNB who sits at a little over $72 billion. As a result, ADA is now the third most valuable cryptocurrency in terms of market capitalization, just below Bitcoin and Ethereum. ADA has gone up by a staggering 150% after hitting the lows of $1 on July 21. Currently, it is experiencing strong levels of buyer volume, and the bullish momentum is gaining more strength for the coin.
It is believed that the Alonzo upgrade that will inculcate mart contracts in the crypto network will also have a strong impact on the coin. The investing lot is eagerly waiting for the upgrade to roll out in almost 3 weeks from now. It would cover a major deficiency of the network, and will make it more effective for the users. The scalability and security of Cardano is also attracting many people to hop onto its bandwagon.