The crypto industry is probably one of the most fast paced economic sector in the world. There are thousands of cryptocurrencies that have attracted millions of potential consumers from all over the world. With the likes of Bitcoin and Ethereum, the concept of crypto has gained much more relevance and recognition in the public sector. Masses have earned hefty profits by investing in these projects and they have also proved vital to maintain a cash flow in the market sphere.
Bitcoin is the oldest, most valued and the most sought after crypto token in the entire industry. Being the flag bearer of the crypto realm, it has a lot of impact on the performance of other coins. Several altcoins usually follow the patterns of Bitcoin. When Bitcoin reached its all time high earlier this year, almost every token was making big gains. However, Bitcoin's crash forced every token to crawl back again.
The crypto market being highly volatile is extremely sensitive to speculations and rumors. This is why many experts critique that crypto cannot be a reliable financial system as it can be easily manipulated by different market spheres, and influential business personalities. This was observed when Elon Musk used his tweets to manipulate the prices of Bitcoin and Dogecoin.
Amazon rumors and fluctuating Bitcoin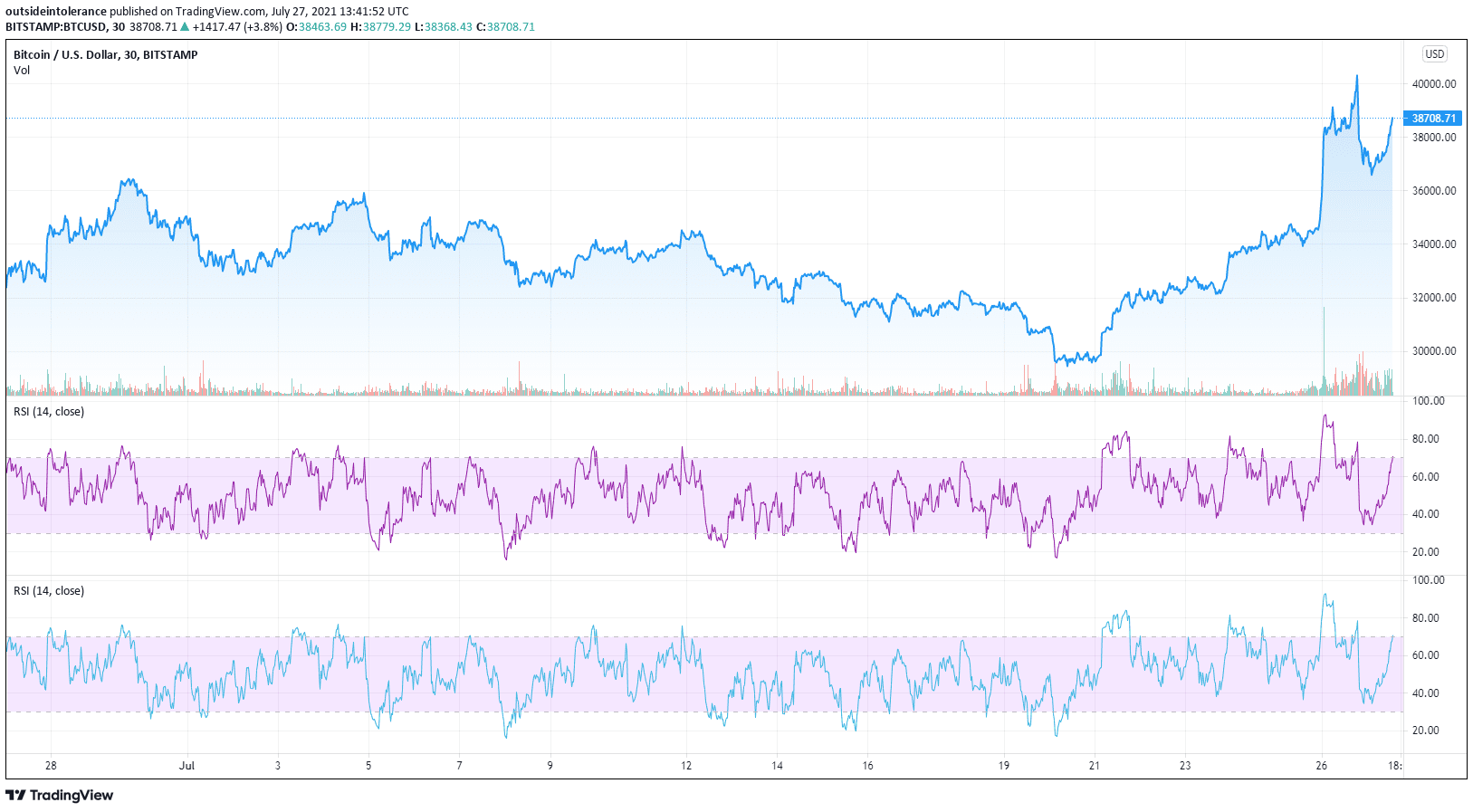 Recently, it was rumored that Amazon might start accepting Bitcoin as a legal tender for payment and transactions. Being the most widespread and influential e-commerce store, Amazon deals in thousands of transactions on a daily basis. This is why the news majorly triggered the price charts of Bitcoin and several other cryptocurrencies. Bitcoin breached $40K for the first time in over 6 weeks.
However, when a spokesperson of Amazon denied the rumors, the price of Bitcoin fell back. After briefly touching $40,000, Bitcoin fell back to almost lower than $37K. Currently, Bitcoin is trading at around $38,500.
The sell-off period observed during this small phase meant that the entire crypto market was now adversely affected. Therefore, crypto tokens like Ethereum, XRP, Doge, BNB, and ADA suffered from losses ranging between 5-10%. Many experts believe that this was a fake bullish trend as Bitcoin failed to clear the upward resistance. However, it has shown major positive signs by staying over the $38K mark. In almost a week, Bitcoin and several other cryptocurrencies have seen extreme phases of volatility by going up and down within brief intervals. It is yet to be seen if the market gets a little composure and gains some stability for the coming days.