Bitcoin has always attracted interest from several sectors because of its high profitability. What started from a few cents is now valued in several thousand dollars. This increasing worth of Bitcoin has made it a global force with people from all over the world hopping on its bandwagon. Not only this, but Bitcoin has also driven the popularity of the entire crypto market in the global context, as many other coins have dwelled upon this success.
Recently, the prices of Bitcoin plunged to go below the mark of $30K. It send alarming bells around the crypto community, as $30K was proving to be a crucial support level for the digital coin. Many experts believed that a break blow this point means that Bitcoin is set to go further low. However, as Bitcoin's unpredictability is fairly known, it bounced back. Within a week, it went past $40,000 for the first time in well over six weeks.
The comeback of Bitcoin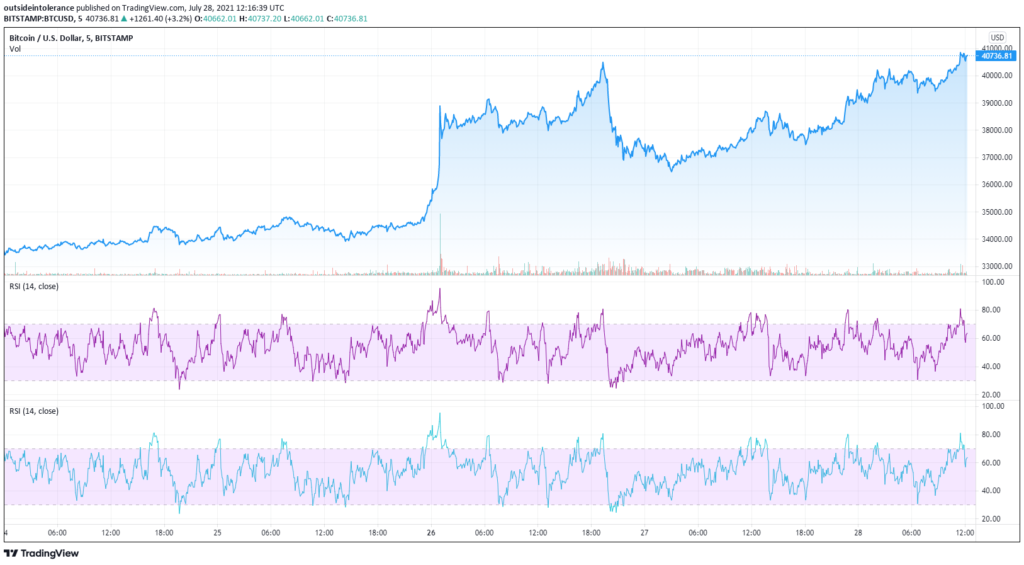 The rumors around the acceptance of BTC payments by Amazon propelled the value of Bitcoin in the market. However, as soon as Amazon denied any such development, Bitcoin started to go down again. Many analysts termed Bitcoin's upsurge as a fake bull flag. However, today Bitcoin again went past $40,000. It surged for over 8%, and is currently traded at over the mark of $40,500. The rise of Bitcoin was also attributed to the interviews of Elon Musk and Michael Slayor. These talks comprised of positive comments about the valuable crypto token.
The dominance of Bitcoin is increasing in the market, and is looking promising to shatter the resistance of $40K in the second attempt. Within last seven days of activity, Bitcoin has gone up by a staggering 34%. The all-time high of Bitcoin is over $64,000. By no means, Bitcoin is expected to go back up there in a short time. However, a respectable bullish pattern can be formed that can induce in the crypto market which has seen a bearish downtrend for several months now.
On the other hand, several other cryptocurrencies also cashed on to the offered prize money. The likes of Ethereum, Dogecoin, Litecoin, Cardano and Ripple also experienced a surge in prices. Ether and Doge gained 7% and 5% respectively. Whereas the rest of the coins went up by 4%. These developments are deemed to be highly significant in the context of the market performance. Therefore, the next few days are expected to be highly crucial to set the upcoming trends of the market.