Following the collapse of crypto-friendly banks, Silvergate, SVB, and Signature, the cryptocurrency market was expected to collapse. With the intervention of the FED in the situation, Bitcoin (BTC) was noticed to be on its way back towards recovery. A while ago, Bitcoin (BTC) broke the $28k barrier, and marked a 27% increase since the previous week. The collapse of these banks have resulted in a dense cloud of uncertainty in the crypto market. Keeping these events in mind, one would wonder how and why Bitcoin (BTC) and other cryptos are rallying?
According to a number of analysts in the market, it is assumed that investors have a great buying pressure, as many of them have FOMO. The market is not increasingly liquid currently, any buying pressure would have a considerable impact on the prices of crypto. However, the extent of the problems in liquidity is still a matter of conjecture.
Is Bitcoin (BTC) Aiming for New Highs?
Bitcoin (BTC) is seen to be trading strong with a solid bullish momentum. At the time of writing, the largest cryptocurrency is trading for almost $28,292. Bitcoin (BTC) has displayed an increase of 4.38% in the last 24 hours. Similarly, the total market cap of the cryptocurrency is $594 billion. The total crypto market cap has crossed $1.18 trillion.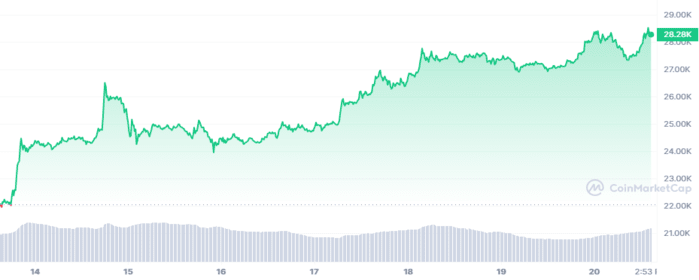 In other news, the FED announced that it would join hands with a few major banks to ensure a steady flow of the USD. The FED is gearing up to boost the frequency of the dollar swap lines with European Central Bank, Bank of Japan, Swiss Bank, etc. The dollar swap lines allow foreign banks to borrow USD, protecting the FED for any risks at the same time. In a swap, a foreign bank swaps its own currency for an equivalent of USD from the FED at the market rate. Furthermore, the bank later on returns the amount with interest to FED.
Over the course of the previous week, Bitcoin (BTC) was noticed to have gained a whopping 37% against the USD. The total market capitalization of the crypto was responsible for the addition of more than $194 billion in 2023. This represented a 66% gain year-to-date, greatly outperforming Wall Street banks. It is necessary to remember that these events took place despite the increased fears of a global banking crisis.
However, many experts believe that a global banking crisis might pave the way for Bitcoin (BTC) to trade at a million dollars. Similarly, the US banking crisis might trigger a hyperinflation scenario that might lead to the seven digit Bitcoin (BTC) price. All of these factors could fuel the bullish momentum within the crypto space. Yet, it is too early to agree with these hypotheses.