The crypto market has attracted potential investors and traders from all over the world in these last few years. These investors eye the huge profit potential of the crypto market to make big gains over their investments. Cryptocurrencies, like Bitcoin and Ethereum have experienced major upsurge in the market. The first quarter of the year 2021 proved to be a record breaking tenure for many cryptocurrencies, as they touched their all-time highs.
However, this was followed by a major correction and bearish trend. The prices of several cryptocurrencies were halved and their trading volumes also suffered a huge blow. Regional and global factors were also adamant to push Bitcoin and other crypto tokens down. Several altcoins also struggled to maintain the upward trend and which is why there was a constant threat looming over the market.
The sigh of relief for the crypto market
Despite suffering from a constant downtrend, many investors and experts were convinced of the potential of the crypto market. They were sure that sooner or later it would bounce back. It was observed in the recent few hours of the market activity, as Bitcoin bounced back and crossed $39,000 for the first time in almost six weeks. It was a major breakthrough for the leading cryptocurrency, as a few days back it had went below a crucial support level of $30K, adding on to the uncertain market situation.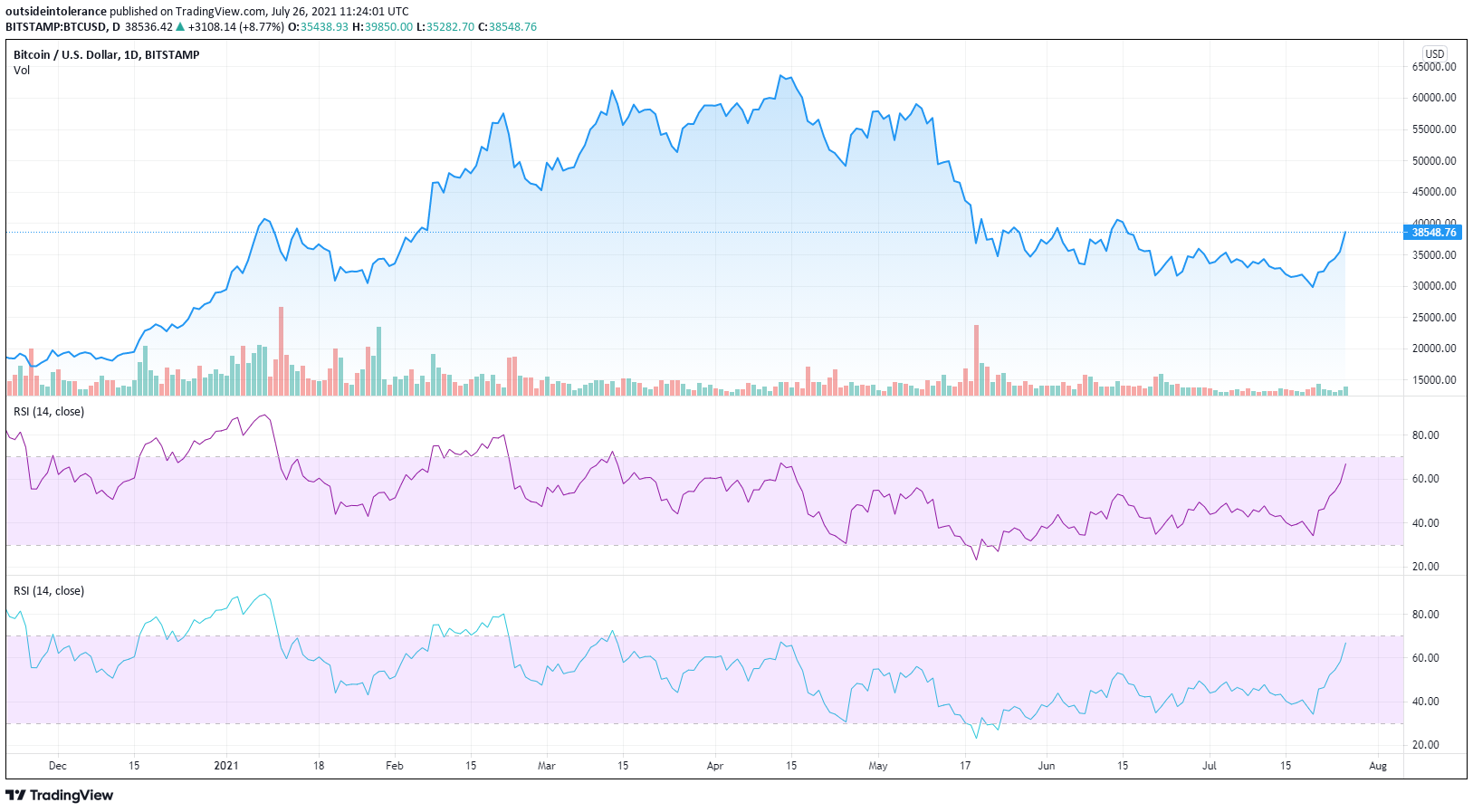 This upsurge came as a relief for the rest of the market as well which tends to follow the pattern of Bitcoin. The market turned green and several major and minor cryptocurrencies got some of their lost glory back. Currently, Bitcoin is trading at over $38,5000, after experiencing an almost 12% increase in its value. The graph below shows how the leading crypto token is significantly breaking out of a specific price zone.
After Bitcoin's upsurge, Ethereum also experienced an increase, reaching almost $2,300 in its value. Overall, the cryptocurrency market added almost over $114 billion in value within 24 hours of activity. This is a major positive sign for the crypto market as Bitcoin was feared to plunge further after going below the support level of $30,000. Another major development for Bitcoin is the speculation of partnership with Amazon which has fueled the upsurge of the market in the recent days. Investors are optimistic for a further increase in the value of Bitcoin and then the other altcoins as well in the coming days.