Bitcoin is the oldest and the most popular cryptocurrency of the world. Since its inception, it has grown in terms of adoption, market cap, trading volume, and valuation to reach its current prestigious state. Millions of people from all over the world trade and mine Bitcoin. Its dominance of the crypto market is a very well-know phenomenon. Bitcoin drives trends in the industry, and it is perceived to be the ultimate game changer of the crypto space.
The year 2021 has been a rollercoaster for the prices of Bitcoin, as it topped in the first quarter of the year, and the went down by over 50%. It made a high of over $64K and a low of under $28K within a few weeks. However, Bitcoin has been on a recovering rally lately, and it has went past the mark of $60K once again. As Bitcoin is approaching its current all-time high, experts are anticipating a massive upsurge of price from the leading crypto coin.
Bitcoin hits new ATH with several fiat currency pairs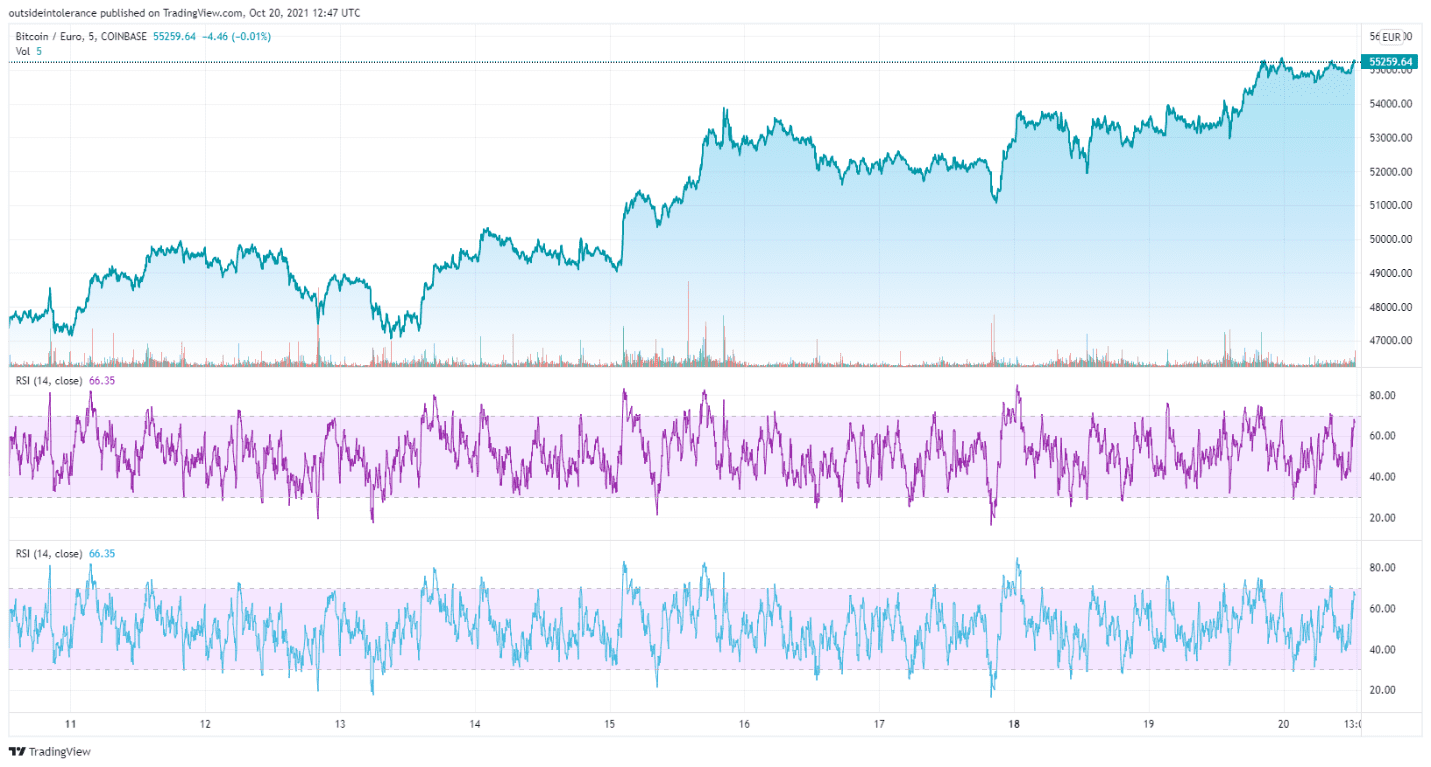 Bitcoin is set to test against its previous all-time highs. However, it has started to seal new records with major fiat currencies. The leading digital coin was unable to beat its ATH on Oct 20 decisively but the bulls are still confident of a major breakout from the crypto token. The pair of BTC with US Dollar did reach the high of $64,490. It was inches away from breaching the highs of April. Moreover, Bitcoin was able to form new all-time high with the Japanese Yen, Australian Dollar, and Euro as well. The Bitcoin and Euro pair's chart shows the highs of Wednesday in the chart below.
Experts believe that despite testing momentum, Bitcoin is still all set to record more higher values. They fear that in the worst-case scenario it might drop to $58K, otherwise it should breach the mark of $70K for the first time ever. Bitcoin futures open interest has also hit all-time high in trading volume, showing that BTC is growing in every aspect.
However, there is a slight unexpected situation in the market because there is a lack of mainstream interest from the investors. This is quite unusual because whenever Bitcoin reaches such high values, the momentum spikes because of the 'Fear of Missing Out' (FOMO). But it is not the case this time and the interest in Bitcoin seems to be quite normal in the market.