In a newly released version of its NFT marketplace, Boson Protocol now enables users to trade physical products in the form of nonfungible tokens (NFTs) that they may burn and exchange for the same items within a specific time limit.
Justin Banon and Gregor Boroa founded boson in 2019 with the purpose of developing a platform that would allow businesses and consumers to trade their products and services in a decentralized manner using blockchain technology.
Enter Web3 commerce with Boson v2 #onPolygon

We are thrilled to announce that @BosonProtocol v2 is live on @0xPolygon enabling the sale of physical products as redeemable NFTs in a decentralized way

Discover products listed on Boson 👉 https://t.co/Fu5JKGhd5t pic.twitter.com/C44CA9OM2C

— Boson Protocol (@BosonProtocol) November 4, 2022
Boson Protocol v2 Now Available on Polygon
The solution uses NFTs and Ocean Protocol technologies on the Polygon network to let anybody use the decentralized public infrastructure for commerce.
"We are launching Boson Protocol v2 on Polygon because it gives us significantly lower transaction costs and higher throughput," Co-Founder of Boson, Justin Banon says. "It is highly secure, and since it is EVM-compatible, we have a wide potential for future expansion."
The idea behind this product is that customers may trade, gift, and transfer these NFTs without ever truly owning the tangible product; it works similarly to a smart contract-based forward contract for a commodity.
Redeemable NFTs tokenize the right to get a real item "within a defined time period," according to Boson Protocol, rather than tokenizing the actual physical items themselves.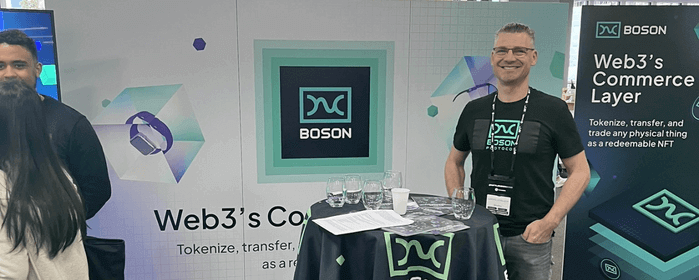 They assert that redeemable NFTs (rNFTs) may benefit from the current web3 infrastructure and can be stored, transferred, or sold like any other NFT by utilizing a common token standard.
"This means your buyers can exchange or transfer the right to receive your product, right up to the point they decide to redeem it," Boson Protocol says.
Similarly, the Boson Protocol allows users to modify their rNFT collection on Opensea and charge additional royalties on OpenSea and other marketplaces that implement EIP-2981—a protocol standard that focuses on notifying market players of the royalty payment information for a specific NFT.
Also, it announced the release of the Boson Protocol dApp, which enables complete decentralization and simple customization possibilities while maximizing Web3's compossibility by utilizing cutting-edge decentralized technologies.
The decentralized app, according to Boson, enables anyone to build their own storefront, easily customize the visual elements of the dApp, add dCommerce functionality, as well as build a web3 marketplace where their customers can redeem real-world rewards in a Web3-native manner.