Coinbase recently revealed plans of developing its own layer 2 network, called Base, for developing decentralized applications. Base, powered by Optimism (OP), would offer a secure, cost efficient, and a friendly environment for anyone to build decentralized apps.
1/ 🔵 We're excited to announce @BuildOnBase.

Base is an Ethereum L2 that offers a secure, low-cost, developer-friendly way for anyone, anywhere, to build decentralized apps.

Our goal with Base is to make onchain the next online and onboard 1B+ users into the cryptoeconomy. pic.twitter.com/RmwZFJzGGs

— Coinbase (@coinbase) February 23, 2023
Moreover, Base is specifically designed to offer users access to numerous other layer 1 ecosystems like Solana. However, the network would also become interoperable with other different chains. Furthermore, it would offer access to a bunch of Coinbase's products, powerful acquisition tools, and much more. Despite the launch of its newest network, Coinbase did not express any plans to issue an entirely new token.
Despite being announced much recently, a testnet for Base has been live since the start of February. However, the mainnet would be launched within the next few months. With the announcement of Base, built on the Ethereum platform, the Optimism (OP) token was subject to a surprising increase in the market. It is known that a token rises high when an appealing project related to it is announced.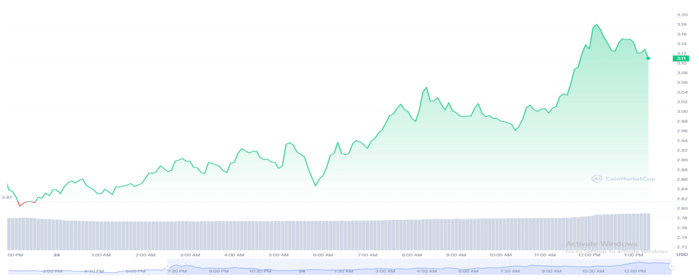 Coinbase and Optimism (OP) Plan to Innovate
At the time of writing, Optimism (OP) has shot up by an impressive 10.36% in the previous 24 hours. The token is trading for approximately $3.11 and has a market cap of $729 million. The token's rally is quite impressive when you take a look on the overall crypto market. Several coins are currently trading in red while the OP token posts gains.
Layer 2 networks are specifically designed to make transaction speeds faster and cheaper in comparison to their layer 1 counterparts. It is necessary to remember that fees sometimes spike up during times of increased demand. When it comes to Optimism (OP), the platform accomplishes this by initially processing transactions on a separate blockchain. This is done before these transactions are settled on the mainnet in the form of multiple batches classified as rollups.
Coinbase would continue to integrate as an exchange with other different networks, and Base itself would be a bridge in this. Within its decentralization plan, Coinbase mentioned that its working with Optimism (OP) to decentralize the Optimism ecosystem by creating a superchain. However, this would be done by connecting a series of networks built on the OP Stack. The current version of Optimism (OP) is simply a Stage 0 rollup. However, by the end of 2023, Coinbase believes to steer Base to stage 1.