CoolBitX is a renowned blockchain technology company and a developer of the first Bluetooth-powered wallet. It has a fairly good repute in the crypto and blockchain realm, which makes it a user-favorite platform as well. Recently, CoolBitX announced the launch of CoolWallet Pro. It was advertised with the tagline "all in one" wallet and "extensive" staking features for advanced users.
As explained in a release, now the DeFi applications will be able to interact with one another more dynamically. The convenience of an intuitive mobile app would complement the security features of a "military-grade" mobile app.
With its launch, the CoolWallet Pro is set to support secure staking of Cosmos (ATOM), Polkadot (DOT), and Tron (TRX). This will also support DeFi protocols, NFT collectibles, decentralized applications, airdrops, and a variety of other crypto products and services.
CoolWallet Pro users will have access to DeFi, dApp, and NFT in-app integration "in the third quarter of 2021". Further, ETH 2.0 and Cardano (ADA), two leading smart contact-based networks, are planned to be supported in 2021. CoolWallet Pro can be ordered from the CoolBitX website or from certain retail outlets. The fulfillment of orders will start from May 24, 2021.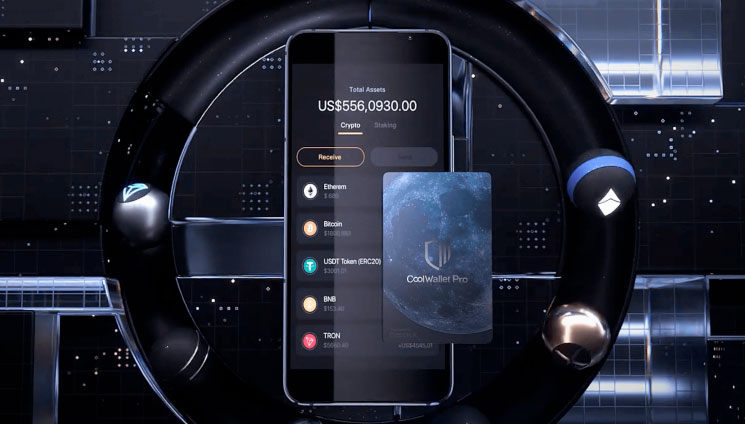 Latest features of CoolWallet Pro:
Several cryptocurrencies, including PolkaDot, Tron, and Cosmos, can now be staked to mine PoS coin rewards.

The companies suggest Tron (TRX), Cosmos (ATOM), and Polkadot (DOT) will be supported after launch. In addition to Bitcoin, Ether, Litecoin, Ripple, Stellar, and Tether.

All new coins, including ETH 2.0, Tezos (XTZ), and Cardano (ADA) on the roadmap will be supported by CoolWallet Pro.

CoolWallet Pro has enhanced security features, including a military-grade CC EAL 6+ security chip, which features unsurpassed industry security standards, as well as multiple authentication mechanisms. Prior to the authorization of a transaction, these include verification steps involving PIN codes, biometric measurements, and physical validation.
CoolWallet Pro aims to maintain its core value proposition as a mobile hardware wallet. Consequently, allowing their users to use their device in a way that is convenient, while simultaneously protecting them from malicious actors with military-grade security. Taking a refreshed approach to its design. CoolWallet Pro's sunken confirmation button accentuates the original form factor, which enhances the cold storage device's overall efficiency and simplicity.
CoolBitX launched the CoolWallet in 2014 as the first Bluetooth-enabled hardware wallet. It has been replaced by the CoolWallet S, which reportedly has sold over 200,000 wallets worldwide.