Bitcoin experienced a significant drop, reaching a two-month low of approximately $25,400. However, it managed to recover some of its losses and was trading at around $26,800 in Asia on Friday. Ether also suffered a dramatic decrease, falling to a low of about $1,550 before bouncing back to just below $1,700.
The top 10 non-stablecoin cryptocurrencies all recorded losses due to macroeconomic factors such as the depreciation of the Chinese yuan and the bankruptcy of Chinese property giant Evergrande, which negatively impacted investor sentiment. As a consequence, investors liquidated $1 billion worth of cryptocurrencies, causing the entire market capitalization toward the crucial $1 trillion mark.
XRP Lead the Losses on Friday's Trading Operations
XRP experienced the largest losses after a U.S. judge granted the SEC permission to file an appeal against a recent ruling in favor of Ripple Labs concerning the retail sales of its XRP token. Despite this, the number of transactions continued to increase. 
U.S. stock futures remained stable following a decline on Wall Street on Friday. The publication of the minutes from the Federal Reserve's July meeting has further fueled concerns about potential monetary tightening in the future.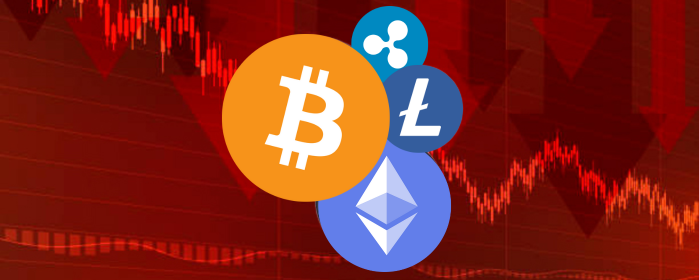 In the last 24 hours, Bitcoin has experienced a 7.02% decrease, falling to $26,819.27 in Hong Kong, according to data from CoinMarketCap. This represents a weekly loss of 8.88% for the world's leading cryptocurrency, which reached a two-month low of $25,409.11 early on Friday. 
Ether also suffered losses, dropping 5.64% to $1,706.22 and recording a weekly loss of 7.80%. It reached a five-month low of $1,551 on Friday. All other top 10 non-stablecoin cryptocurrencies also experienced declines.
Over the past 12 hours, the cryptocurrency market has experienced a total liquidation of $1 billion, with long positions, where investors bet on a rise in cryptocurrency prices, being wiped out to the tune of $812.67 million, according to data from CoinGlass. Ripple's XRP token suffered the largest losses, plummeting 12.52% to $0.5136 and recording a weekly loss of 18.85%.
The total market capitalization of cryptocurrencies decreased by 5.69% in the last 24 hours, falling to $1.07 trillion and approaching the critical US$1 trillion mark. Meanwhile, trading volume surged by 78.91%, reaching $60.58 billion.