On Wednesday in Asia, Bitcoin and Ether, along with other top 10 non-stablecoin cryptocurrencies by market capitalization, experienced a decline. Polygon's MATIC token experienced the largest decline, while Cardano's ADA token also saw a decrease following the announcement that Binance will be discontinuing perpetual contracts for the two cryptocurrencies.
Despite these changes in trading habits, market analysts are optimistic about the future. In the U.S., stock futures stabilized after a tumultuous Tuesday. Sales data that exceeded expectations caused investors to worry that the Fed may continue to raise interest rates. 
Ether and Bitcoin Took a Slight Dive
In the past 24 hours, Bitcoin has experienced a 0.85% decrease, falling to $29,169.14 in Hong Kong, according to data from CoinMarketCap. Despite this decline, the world's leading cryptocurrency has seen a weekly gain of 1.99%.  Bitcoin has been trading below $30,000 since last Wednesday. On Tuesday, cryptocurrencies suffered losses as the three major U.S. exchanges reported declines.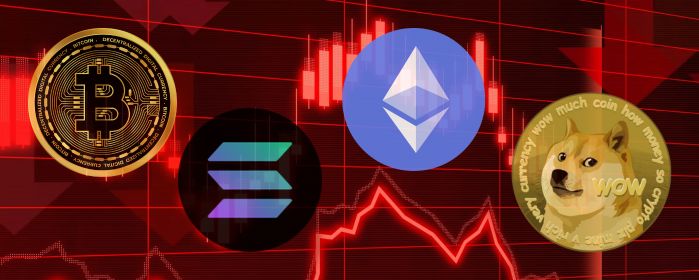 Many are facing a difficult day as both the cryptocurrency and traditional finance markets are experiencing declines. This is not the first time that the cryptocurrency market has mirrored the Nasdaq, which is currently down by 1.14%. The lack of liquidity, particularly during the slow month of August, is not helping the situation. However, there is still much potential for growth in this asset class.
In other news, Ether experienced a 0.95% decline, falling to $1,826.79 and dropping 1.63% over the past seven days. All other top 10 non-stablecoin cryptocurrencies also saw declines, with the largest loss being experienced by Polygon's MATIC token, which fell 6.72% to $0.6338 on Wednesday morning and dropped 7.43% for the week.
Solana's SOL token also saw a dip of 5.08%, falling to $23.84 and experiencing a weekly loss of 1.08%. Cardano's ADA token dropped 3.13% to $0.2817, resulting in a weekly decline of 5.95%.
These losses for ADA and MATIC came after Binance, the world's largest cryptocurrency exchange by trade volume, announced that it will be delisting perpetual contracts for the two cryptocurrencies starting on Thursday.
In the past 24 hours, the total market capitalization of cryptocurrencies has decreased by 1.32%, falling to $1.16 trillion. However, trading volume has increased by 3.48%, rising to $29.71 billion.