The world's second-largest cryptocurrency exchange by trading volume, OKX, has introduced three new industry-leading solutions that provide its retail and institutional users more transparency into their assets and the sources of their backing as well as more control over their money.
Proof-of-Reserves gained in popularity after the bankruptcy of FTX, which went heavily into debt by using customer funds to cover balance sheet holes for its trading sister firm, Alameda Research.
Global exchange claims that its most important obligation and top priority is to keep its customers' cash secure at all times, boasting of retaining a 1:1 reserve of all client assets on the platform and providing full transparency of their accounts.
🚨 Don't trust, verify → OKX Proof of Reserves (PoR) is LIVE. 🚨

To set a new standard of transparency, risk management and user protection, we're launching our first PoR.

You can now verify your assets are backed 1:1 on #OKX ⤵️

Details 🧵👇

— OKX (@okx) November 23, 2022
OKX Provides Two Audit Options
Users have two ways to check the exchange's reserves on the Proof of Reserves page. They may get an overview of the exchange's current reserves and liabilities for its top three cryptocurrency holdings, BTC, ETH, and USDT, using the first option.
This first summary also reveals that OKX has 102% of the Bitcoin (BTC) and Ethereum (ETH) required to manage all BTC and ETH withdrawals, as well as 101% of the USDT required to handle all Tether withdrawals.
"View My Audit" is the second option. The user may sign in and get a snapshot of their balances as they currently stand at the exchange.
Unless the user has taken out margin loans, the balances should match those on the asset overview page on the app's dashboard, according to the cryptocurrency firm.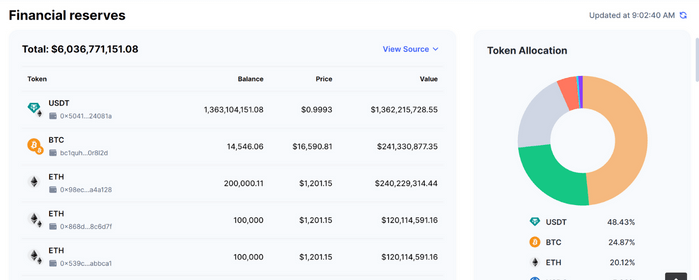 However, the exchange's on-chain wallet holdings are now public, so users can verify their funds are backed by real assets.
"We have also launched a Self-audit feature for you to verify your assets are safe," OKX maintains. "Currently, this feature supports BTC, ETH, & USDT – we'll add more assets over time."
Additionally, OKX exchange plans to do routine proof of reserves audits to update the condition of user assets contained inside its reserves as well as the reserve balances.
This Proof-of-Reserves (PoR) concept was initiated by the CEO of the world's largest crypto exchange, Binance, to rebuild users' trust in centralized exchanges. As such, several centralized exchanges have published or promised to disclose proof of reserves.
The market tracking website Coinmarketcap (CMC) has also introduced a verification mechanism with a verification badge for tracking each exchange's reserves. Some top exchanges, including Binance, KuCoin, BitFinex, Bybit, and OKX, have earned the badge.
CMC gets data from Nansen, DefiLlama, and the exchanges' websites, and strives to update the information every five minutes.