On Thursday, Bitcoin and Ether traded flat in Asia, with Bitcoin below the resistance level of $26,000 and Ether hovering around $1,600. The recent application for a U.S. spot Ether exchange-traded fund (ETF) by asset manager Ark Invest has not yet affected the token's price. 
There was mixed trading among the top 10 non-stablecoin cryptocurrencies, with Solana leading the losses and Toncoin posting the most gains. Meanwhile, U.S. stock futures edged lower following a slide on Wall Street on Wednesday due to stronger-than-expected U.S. economic data raising concerns about inflation and interest rate hikes.
Crypto Market Failed to React to ETF News
In the last 24 hours, Bitcoin experienced a slight dip of 0.05%, trading at $25,764.75 in Hong Kong according to data from CoinMarketCap. Since last Friday, the world's largest cryptocurrency has remained within a range of $25,500 to $26,000. 
The cryptocurrency market continues to experience low trading activity and uncertainty about the future regulatory environment, particularly in the United States, has dampened traders' sentiment.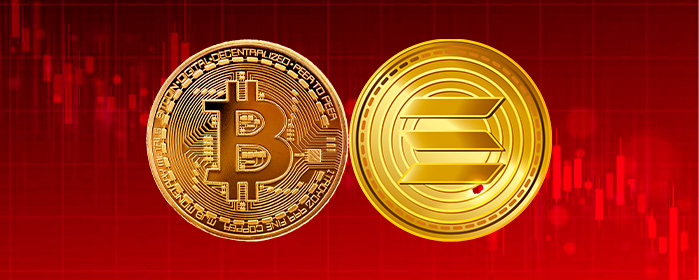 Over the past seven days, Ether has experienced a loss of 4.22% and has traded flat at $1,632.60 for the past 24 hours. Despite the news that Cathie Wood's Ark Invest has filed for the first spot Ether ETF in the U.S., Ether has not seen any gains. 
In the past, spot Bitcoin ETF applications have boosted Bitcoin's price, but Ether has not increased as market enthusiasm for ETF applications appears to be wearing off.
In the past 24 hours, the top 10 non-stablecoin cryptocurrencies have experienced mixed trading. Solana led the losses with a drop of 3.28% to $19.62, resulting in a weekly decline of 6.04%. On the other hand, Toncoin, the native token of the decentralized network TON (The Open Network), led the gains with an increase of 2.67% to $1.82 and a weekly gain of 5.81%. 
This follows the official registration of the TON Foundation, the group behind TON, as a non-profit organization in Switzerland on Wednesday. The total crypto market capitalization decreased slightly by 0.01% to $1.04 trillion, while trading volume rose by 7.97% to $27.04 billion.