After going through persistent spells of a bearish market, the cryptocurrency market is now recovering and eyeing bullish forecast for the coming months. Almost all cryptocurrencies are now experiencing considerable price surges in the market. Moreover, the predictions are also quite bullish, as experts believe that new records are on the cards for the market. Currently, there are millions of people from all over the world who have shown interest and have invested in the crypto industry. This is why the market is currently bigger than ever, and the stakes high for everyone involved.
The top two cryptocurrencies of the world, Bitcoin and Ethereum have driven the ongoing bullish trend in the crypto market. Both of these coins have closed the gap with their all-time highs, and are set to make new records. Bitcoin has already staged a breakout from its record high of April, whereas Ethereum has just hit a five-month high as of now. The recent upsurge of Ethereum was its largest in the month of October, and therefore, it is believed that the record high are closer than it may seem for the leading altcoin.
Ethereum faces little resistance to set new records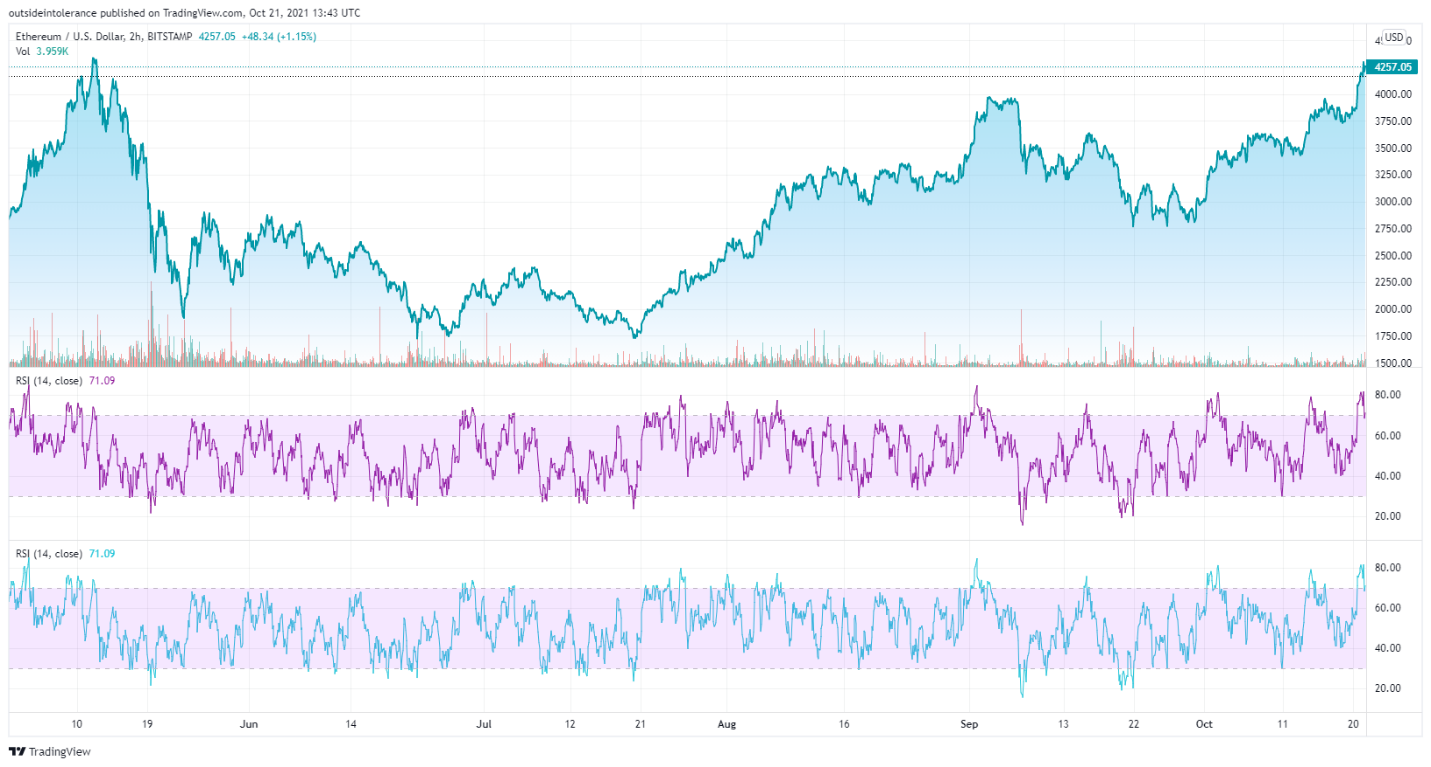 Ethereum has successfully impeached the bearish trendline that connected the months of May and September highs. Bitcoin previously followed the similar pattern, and later recorded a high of $66,000. Therefore, it can be anticipated that Ether will follow Bitcoin's lead, and it will surpass crucial levels to set new records. Nonetheless, ETH has also turned the September high of $4,030 into its support level, and it is currently comfortably sitting at over $4,250.
As the graph above shows, Ethereum is reaching its record high of May, and there is a very minimal difference left in the two peaks. However, the Relative Strength Index (RSI) Levels still show that the digital asset is overbought. So, the experts believe that ETH can pullback to the support of $4,030 before continuing its historical bullish run.
In addition to Ether's upsurge, several other coins are making huge gains in the market. Solana (SOL) is fast-approaching the $200 mark, whereas FTT and AVAX are also making a strong move in the market. The trading volume and market cap of these currencies have also increased by a significant margin, indicating major positive signs for their bull run. Also, BNB has also replaced ADA to be the third largest cryptocurrency in terms of market cap. In conclusion, it can be said that the crypto market has been quite happening lately.