According to the most recent report published by CoinShares, institutional investors are pouring their money into digital asset funds that are based on Ethereum (ETH). These funds have had positive inflows of capital for seven weeks in a row.
Investors Bullish on ETH
According to the most recent report published by CoinShares, institutional investors have made significant investments into Ethereum-based digital asset funds for the last seven weeks running.
This is shown by the fact that these products have registered inflows over the relevant weeks. Inflows of $16.3 million were reported by Ether-based asset funds during the most recent week, bringing the total amount of inflows reported over the previous seven weeks to about $160 million.
CoinShares Head of Research James Butterfill said on Monday that they think this switch in investor mood is due to better clarification on the scheduling of The Merge, which is when Ethereum transitions from proof-of-work to proof-of-stake.
The Merge is scheduled to take place on September 19, and Butterfill stated that they believe the increase in market sentiment for Ethereum-focused products is mostly due to greater clarity pertaining to the approaching Merge.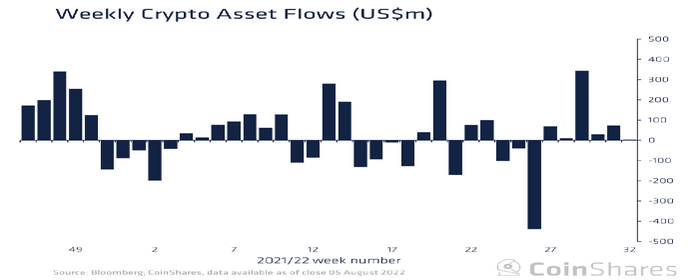 The Ethereum mainnet will combine with the Ethereum 2.0 Beacon Chain as part of The Merge. This will result in the successful completion of the transition from a proof-of-work (PoW) consensus mechanism to a proof-of-stake (PoS) consensus mechanism.
It is anticipated that the Proof-of-Stake (PoS) consensus procedure would improve Ethereum's security while also making it more environmentally friendly and energy efficient.
According to Etherscan, the number of transactions carried out on the Ethereum blockchain currently surpasses one million on a daily basis.  As a result of the enormous demand for and use of the Ethereum blockchain, there is now a considerable need to expand the speed at which the blockchain operates.