The Kyber Network's utility token, KNC, has gained traction in the market, as evidenced by its recent price increase. The KNC token was trading at $2.27 at the time of writing, up 35% in the last 24 hours, with a one-day volume of $504.25 million, up over 538%, according to data from Coinmarketcap.
The major reasons for the rise
Because of several recent developments in the Kyber network, the token has increased significantly in recent days.
One of the reasons is the recently announced TrueSight, a new KyberSwap feature that allows users to see the most popular tokens on their website's discovery page.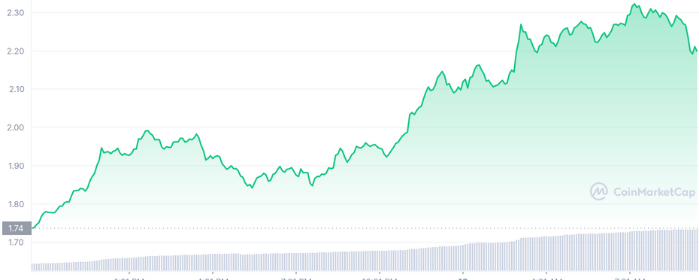 In a similar vein, the project recently partnered with BitTorrent Chain (BTTC) to scale multi-chain DeFi, offering 4 months of liquidity mining and incentive rewards.
As a result, investors have lauded the announcement and piled around the token, pushing its prices higher.
Years of planning, strategy, research, and technology have all come together to produce these results. With the passage of time, cryptocurrencies on the digital roadmap with date-set milestones appeared, and Kyber Network was born (KNC). Kyber Network was founded in 2017 with the goal of making investors feel comfortable and allowing them to interact safely using KNC at lightning speed. Despite this, the Kyber network community has set higher goals for itself. 
About Kyber Network
Kyber Network was co-founded by Loi Luu, Yaron Velner, and Victor Tran in 2017. It is a multi-chain crypto trading and liquidity hub that facilitates instant trading across various networks, including Ethereum, Polygon, Binance, Avalanche, and more. The network aims to solve the liquidity issue in the decentralized finance (DeFi) industry by allowing developers to build products and services without worrying about liquidity for different needs. 
Developers can use Kyber Network to create and work on smart contracts that automatically carry out tasks under particular conditions. Over the years, Kyber Network has been committed to upgrading the protocol on a regular basis to provide enhanced usability, security, functionality, and decentralization.
As a result, the entire ecosystem becomes more reliable and efficient. The back-end team's round-the-clock support makes Kyber Network even more dependable. Investors may rest easy, knowing that any spyware will be detected as quickly as possible.