The past 24 hours have been really crazy for Bitcoin after breaking above $8,000. The digital asset has continued its bullish momentum and managed to climb above $9,000 today hitting a peak of $9,460 on Binance.
Unfortunately for the bulls, that peak was followed by a huge and violent rejection down to $8,542 within hours forming a significant bearish reversal candlestick on the daily chart, although the day is far from over.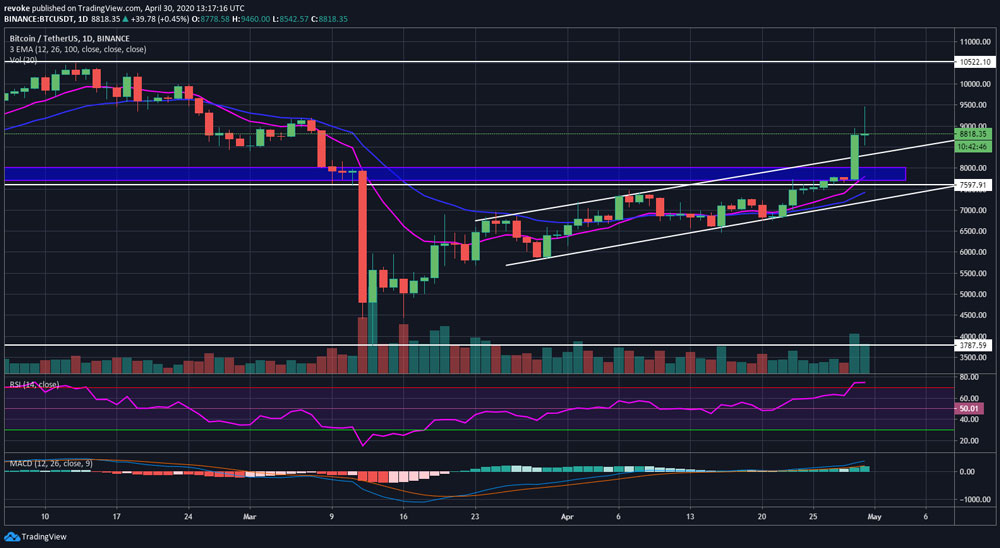 The daily RSI is still overextended even after the huge rejection and the bulls could be facing further downside action. There isn't a lot of support nearby which means that bulls will be looking at the $8,000 psychological level as support and the 12-period EMA currently located at $7,787.
Fortunately for the bulls, the daily uptrend is robust enough to support another violent crash as the last low is all the way down at $6,762 which means that anything above this level is simply a higher low and a continuation of the daily uptrend.
Is Bitcoin Going to Crash After Its Halving?
Analysts are now worried that Bitcoin has already gone up too much before the halving for the event to have any impact when it gets completed. In fact, many analysts are speculating about the possibility of Bitcoin crashing the day of the event because of the 'buy the rumor, sell the news' slogan that many traders like to use.
Past Bitcoin halvings had no impact on the day of the event, in fact, during the last Halving, Bitcoin saw significant bearish action on the next few weeks before eventually taking off. With only 2 points of data, it's difficult to accurately predict what Bitcoin is going to do as its situation is also far different than what it was in 2016/17.
One thing is clear, Bitcoin always goes into a huge bull run months after the halving event. Clearly, considering the situation right now with the pandemic and the collapse of the global economy, we can't know for sure if Bitcoin is going to enter another bull run after its halving.