The cryptocurrency market has become highly inclusive in nature. It accommodates a range of projects which are influenced by different topics of discussion. It consists of projects like Bitcoin and Ethereum that drive the interest of the investing sector in the industry.
But at the same time, coins like Dogecoin and Shiba Inu, that are inspired by memes and jokes also grab the attention of investors and traders. The increasing scope and demand of these coins has entirely shocked the market which normally focuses on project fundamentals, roadmap, and goals.
Nonetheless, this shows that crypto is an incredibly unpredictable market, and it has the tendency to defy all odds when no one expects it to do so. This is what makes crypto a highly risky yet profitable market. People have made and lost hundreds and thousands of dollars in this sector within seconds. A similar phenomenon was recently observed in the market, as the digital token Squid Game proved to be a scam.
Squid Games token goes crashing after soaring high
Recently, a digital token was launched which was inspired from the popular South Korean Netflix series, Squid Games. The token was projected as a play-to-earn cryptocurrency, and it received a huge uproar from the investors because of the show's popularity. As a result, the price of the coin skyrocketed and achieved major all-time highs.
Media reports show that the token was criticized as people were unable to resell their assets. Normally, this phenomenon is known as a 'rug pull' in the crypto industry. This happens when a network attracts buyers and then stops trading activity to make money from the sales. It is reported that the developers of Squid Game made about $3.38 million in this sham.
A week ago, Squid was trading at just 1 cent and within days, its price went over to cross $2,850. This was considered as one of the most impressive upsurge of a crypto token. However, now its price has crashed by 99%, touching the lows of $0.003. As a result, many investors lost their investments within minutes, and the crypto fraternity is in a state of shock over the incident.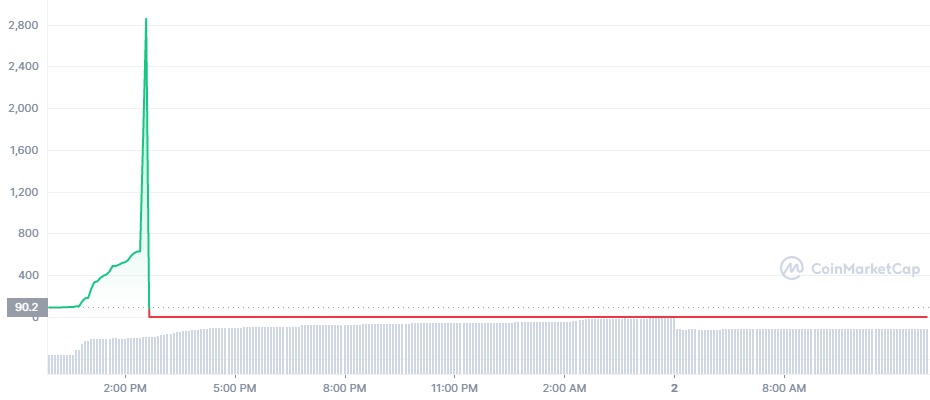 The fraudulent token was marketed to be used in a new online game. This game was said to imitate the Netflix series, and it was expected to go live this month. However, it was never to be. The consumers have also said that the website of the project had many spellings and grammatical mistakes, and all of its social media account have also been erased. The coin only gained hype because of naïve investors and the developers used it to make money for themselves.