The cryptocurrency market is full of uncertainty, as different tokens experience spells of volatility at a rather unexpected time. This is also something that separates the crypto market from the rest of the lot, and makes it more risky yet attractive. We have seen examples of a token going over the top or crashing significantly in a space of a few hours.
Meme-based cryptocurrencies are a living example of this phenomenon, as they have repeatedly surprised the market with their performances. The likes of Dogecoin and Shiba Inu are two of the most popular and user-favorite meme coins, and their progress over the last year or so has made it pretty clear that they are here to stay.
SHIB cuts a zero, experiences a rise in its trading volume and market cap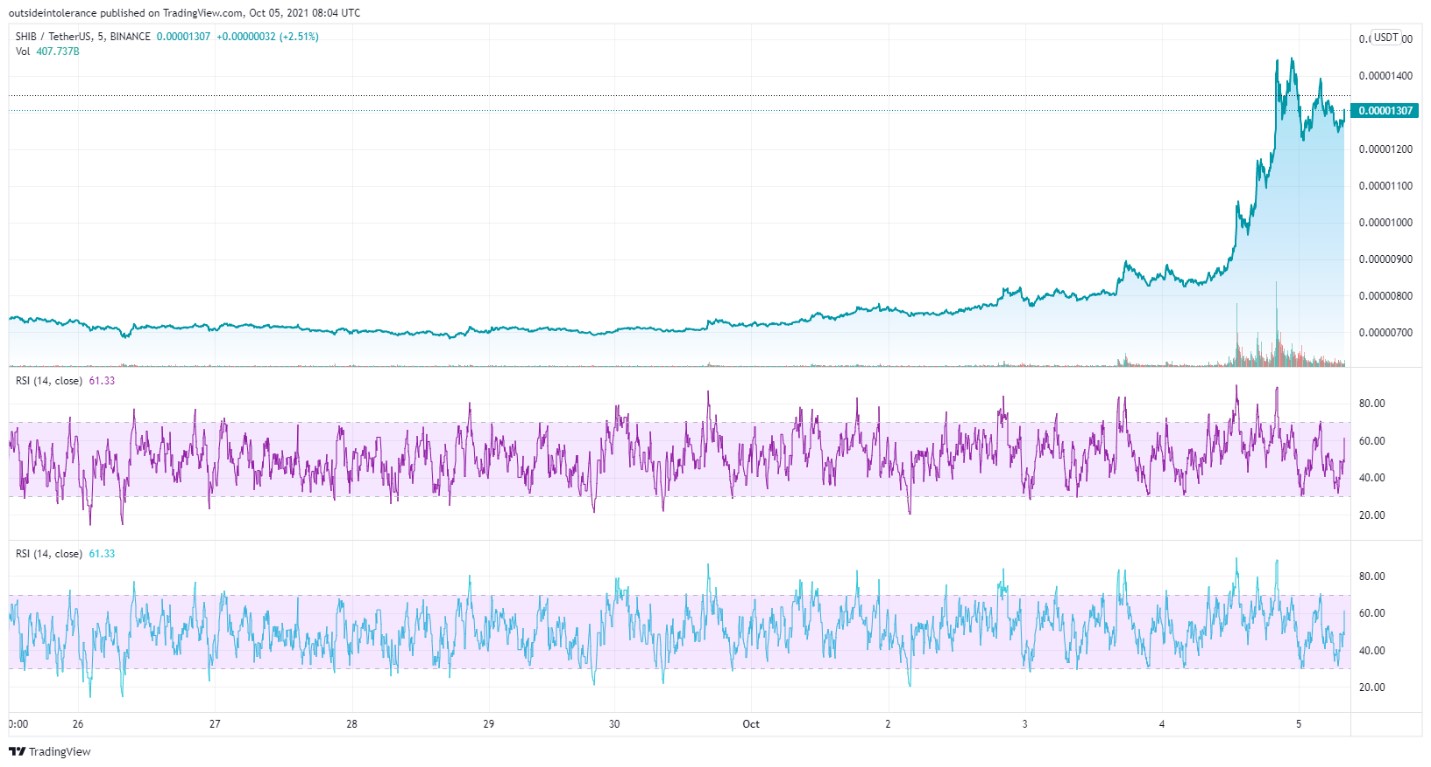 After a long bearish spell, the Shiba Inu coin stormed off with an almost 50% rise within the last 24 hours. As the chart below shows, the coin had a clear cut break out over the last 24 hours. It is now valued at a little over 0.00001300. Shiba's market cap also experienced a major rise and it currently stands at over $5,195,000. All of these figures show the sheer success of the coin over the last couple of days.
Shiba is termed as the 'Dogecoin-killer' by its own community that continuously supports the coin on social media platforms to build a wider audience.
However, the recent pump of Shiba Inu was triggered by another major reason. The price of the token skyrocketed when Elon Musk, the CEO of Tesla and a vocal supporter of the Dogecoin, tweeted in the favor of Shiba Inu.
Musk has not supported Doge as much as he did previously, so his recent tweet may indicate a shift of interest for the billionaire. The cryptic tweet shared a picture of Musk's new pet dog, Floki, and it  was captioned 'Floki Frunkpuppy'. This tweet triggered a major price hike in the coin's price.
Floki Frunkpuppy pic.twitter.com/xAr8T0Jfdf

— Elon Musk (@elonmusk) October 4, 2021
Many influencers and investors are hyping up Shiba Inu to make it the next big thing in the crypto space. Even though many experts predict that the price of the token can go up in the near future but none of them believes that it can go up to $1 or even $0.1 in the next four to five years. The coin has, nonetheless, attracted many investors, and its team has also shown major signs of progress which can prove to be an extremely healthy development for the coin.