It was recently revealed that Nike, the most well-known sports brand in the United States, is also the most profitable brand in the world when it comes to the selling of non-fungible tokens (NFTs).
Nike Has Generated $185M Revenue From NFT Sales
Nike's NFT-related projects have made over $185M in revenue, positioning it as the biggest earning brand from NFTs.@DuneAnalytics dashboard by @nlevine19. pic.twitter.com/UDD90kz8Af

— NFTgators 🐊 (@NFTgators) August 22, 2022
Over the years, Nike has maintained a successful position in comparison to other brands. It has been challenged by a number of other luxury companies, but very few have been able to match up to its standards. The constant innovation, great quality, and sophisticated services are the reasons behind this. It isn't the growing sales in the conventional market that have lately brought it to people's attention in the headlines.
On the contrary, it has led the list of major revenue producers in NFTs among the top brands, and it has done so for quite some time.
On the other hand, the top five spots on the list were occupied by other sports and fashion brands. Dolce & Gabbana, Tiffany, and Gucci came in second through fourth place, respectively, with a total revenue of $25 million, $12 million, and $11 million accordingly.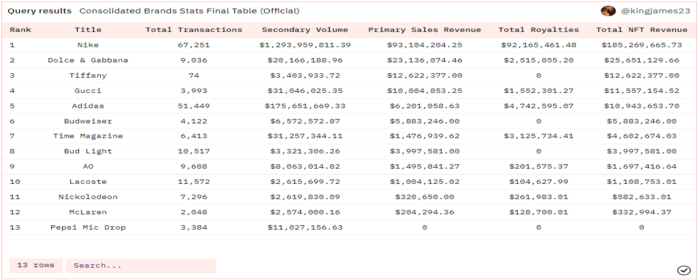 The figures that were provided pertain to one of the worst years ever experienced by the market. According to the data that is currently available, there was a little increase in sales recorded in the market for the month of May 2022, but sales for the other months have exhibited a downward trend.
A year ago, these sales were breaking new records as their value continued to skyrocket, and they continued to establish new marks. However, in spite of the fact that NFT sales are falling, some collections continue to be at the top of the sales lists.
According to statistics provided by CryptoSlam, the top 10 most valuable non-fungible token (NFT) sales in the preceding twenty-four hours were entirely of Bored Ape Yacht Club NFTs.