Following its initial test launch in May, Mark Zuckerberg, CEO of Meta, said that the firm is extending its NFT support on Instagram internationally. A feature that was previously exclusively accessible to some creators in the US will now be available to more than 100 nations globally.
The Thursday official announcement indicates that this functionality would be made available across Africa, Asia-Pacific, the Middle East, and the Americas without specifying which particular nations will have access to it.
Instagram expands access globally
Users only need to link their digital wallets to Instagram in order to upload a digital collectable. The platform now allows connections with third-party wallets, including Rainbow, MetaMask, Trust Wallet, Coinbase Wallet, and Dapper Wallet. At this time, the supported blockchains are Flow, Polygon, and Ethereum.
Furthermore, they claim that users are not charged for uploading or sharing digital collectables on the platform and that users can freely display their digital assets on the social media network.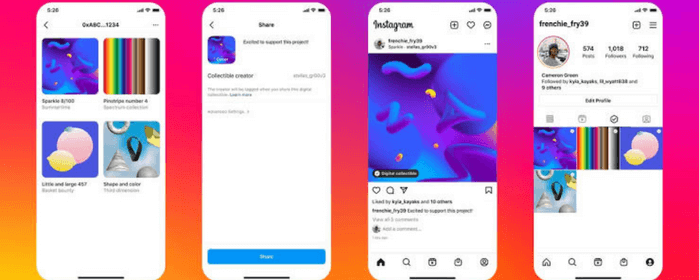 They mentioned users like aerial and street photographer Natalie Amrossi (@misshattan), who used the tool to promote some of her work and, as a result, had an increase in sales. They also claimed to be so inspired by the creators who have shared their digital collectables. People have shared and displayed NFT artwork they have amassed on the social media site in an effort to encourage their fellow makers.
According to Meta, the company is committed to developing in this area with sustainability in mind. By acquiring renewable energy, the firm will assist lessen any potential emissions impact from the display of digital collectables on Instagram.
According to Meta, a wide range of web3 technologies are being investigated because they are thought to increase access, lower prices, and speed up innovation, thereby empowering people and creators all around the world.
"We are excited to continue listening to feedback from creators and collectors as we continue to build in this space," Meta maintained.
However, Meta insists that they are committed to promoting different voices, developing in this area sustainably, and ensuring that Instagram is a secure and fun environment for everyone. Therefore, users can use these technologies to protect their accounts and report digital collectables that violate the rules of their community.