The recent actions of the US Securities and Exchange Commission (SEC) have had a significant impact on several cryptocurrencies. Data from CoinMarketCap shows that several cryptocurrencies, including Solana (SOL), Polygon (MATIC), and Cardano (ADA), have experienced a collective loss of approximately 15% or $5 billion in market capitalization over the course of the month. This loss may be directly linked to the SEC's recent classification of many of these tokens as 'unregistered securities.'
The Curse of the SEC Continues to Haunt These Tokens
The SEC has been taking a more active role in regulating the cryptocurrency market, as evidenced by its recent lawsuits against Binance and Coinbase. In these lawsuits, the SEC specifically mentioned several cryptocurrencies that it considers securities, including Solana (SOL), Polygon (MATIC), Cardano (ADA), The Sandbox (SAND), Filecoin (FIL), Cosmos Hub (ATOM) Decentraland (MANA), Algorand (ALGO), Axie Infinity (AXS), and COTI (COTI).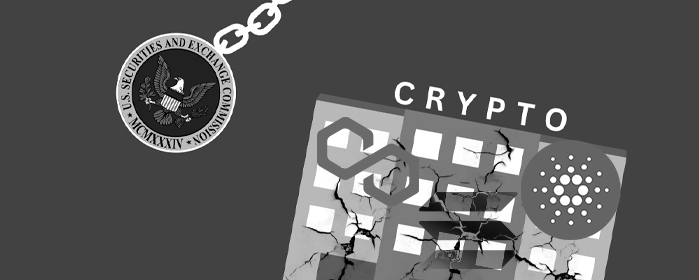 These cryptocurrencies have all been affected in one way or another by the SEC's proclamation. According to a publication by Messari Crypto, Polygon and Cardano have been the biggest losers. Polygon's market value has dropped 20%, from $8 billion at the start of June to roughly $6 billion, and it is currently trading at $0.66. Cardano's market capitalization has decreased by 17%, currently trading at $0.29
Despite not being mentioned in the SEC's list, Binance's native token BNB has experienced the largest decline. This is likely due to the ongoing pressure from various global regulatory authorities on the exchange. BNB's market capitalization has decreased by a significant 21%. That is, its market cap ($47 billion before SEC's filing) has now lost about $10 billion since the filing.
These developments highlight the growing regulatory scrutiny of the cryptocurrency market and the potential impact it can have on the value of various tokens. It remains to be seen how these cryptocurrencies will adapt to these challenges and what steps they will take to comply with regulatory requirements.