The cryptocurrency market is a mix of thousands of digital tokens and coins. There are over 17,000 tokens in the market that are being traded on over 450 exchanges. All of these mount up to make a trillion-dollar sector. However, the performance of several coins continue to swing both ways. Every now and then, there are some standout performers in the market. This time around the performance of Smooth Love Potion (SLP) has amazed the crypto community.
SLP was previously struggling to make a statement in the crypto market. It was stuck in a persistent bearish loop. The coin was hovering around the $0.01 mark for a long time. It was becoming frustrating for the investors and holders of Smooth Love Potion, as they were not being rewarded for their patience. However, SLP boomed in the ongoing week. The coin has smashed all charts and graphs with its staggering price hike.
The coin is now valued at around $0.04. The value of Smooth Love Potion has increased by almost 63% since the last day, and it has increased by a mammoth 345% over the last 7 days. These statistics indicate how SLP has punched above its weight to experience a major bullish outbreak. The market cap of the coin is over $166 million whereas its 24-hour trading volume is at a huge $5.30 billion. The SLPUSD chart below shows the one-way ride of SLP throughout the last week.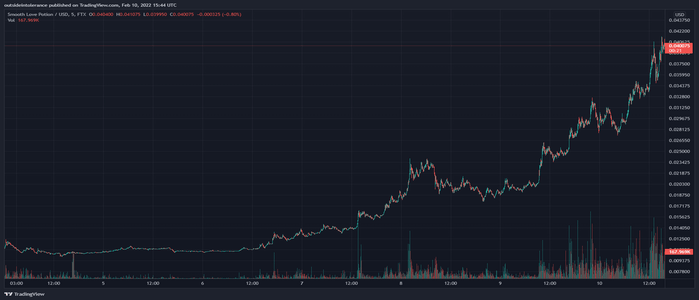 Smooth Love Potion benefits from the latest Axie Infinity update
Smooth Love Potion is a token that is earned by playing the popular Axie Infinity game. Therefore, the developments made to Axie's game mechanics have propelled the prices of SLP. The season 20 update has made changes to the use of SLP. It has inflicted two cuts to the SLP emissions.
The SLP rewards are reduced with the update. A reward of 50 SLP from the adventure mode on the game is also eliminated. This reward accounted for almost 40% of SLP production. With further cuts, the daily increase in the token's supply will be reduced by almost 165 million, which is a significant figure.
The update carries significance for Axie, as well as for SLP. The token was down for a long while, and the recent bull run has pushed it closer to its all-time high mark. The newly introduced changes are working wonders for SLP, and therefore, its price might grow further in the coming days.