The year 2021 continues to be a rollercoaster for the cryptocurrency market. The crypto community observed a major upsurge in the market at the start of the year, which was then followed by a nerve-wrecking crash. However, after three months of bearish market, a revival has been seen throughout the month of August. Many cryptocurrencies continue to rally, as the bullish sentiment grows in the overall market.
The recent market upsurge has observed a major increase in the worth of several digital coins. The upward trend is not only limited to the user-favorite Bitcoin or Ethereum. The trend is also followed by several other projects, like ADA, SOL, ATA, DOT, and so on. This has also induced a shift of interest in the investing community which is now eyeing these altcoins to make more profits and gains. As a result, there has been a slight shift in the list of the largest cryptocurrencies as well. Solana (SOL) has now toppled Dogecoin to become the seventh-largest crypto coin, in terms of market value.
The bullish dominance of SOL
Solana has risen the charts in these past few weeks. Its growth came as a shock to the crypto community, as the coin rose above expectations, and crashed past its own all-time high. In only a month, SOL has risen from the price range of $40 to $140. These staggering figures show the dominance of SOL in the recent weeks. After reaching the high of $145, SOL is currently valued at over $138.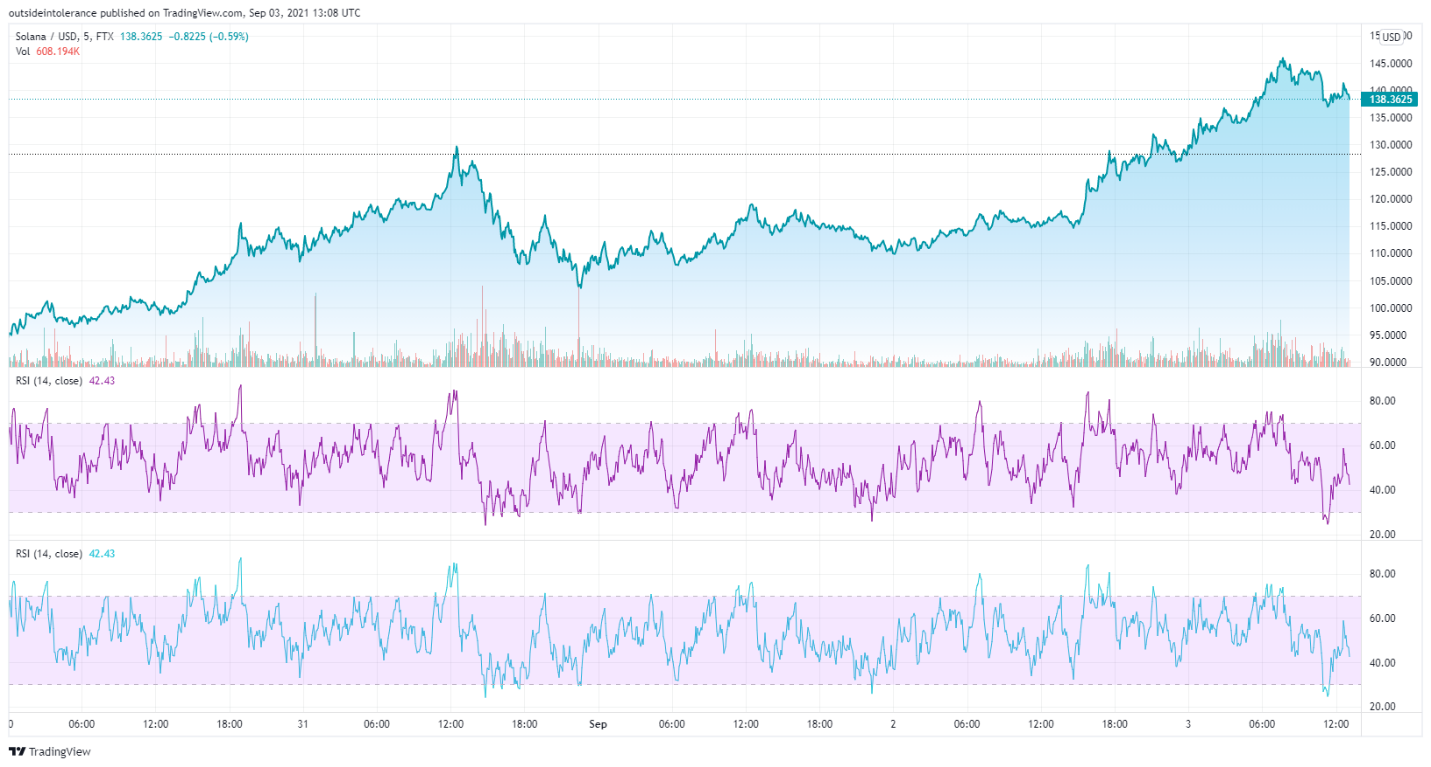 The market capitalization of the coin has now reached the mark of $42 billion, surpassing Doge's $38 billion. Dogecoin has been struggling ever since it fell from its all-time high in May. However, the way SOL has upsurged, it might go onto topple a few more big names from this list.
The upward trend in SOL was triggered when Solana launched it NFT project on August 15. The project was named the Degenerate Ape Academy, and the perfect timing of its launch boosted SOL's price by three times. Moreover, Solana's popularity was also driven by the support from Sam Bankman-Fried, launch of several decentralized application, and the addition of Kaiju NFT cards on the Solana blockchain.
Nonetheless, SOL is still maintaining its bullish momentum, and it might be able to grow further as the project continues to focus on its fundamentals and goals. Also, the increase in its market cap is an indication of how investors and traders are showing confidence in the project.