Solana (SOL) has been on an impressive uptrend in the past three weeks. According to Santiment, SOL's price surged by 35% in that period. The price of SOL bounced off a local low of $14.07 three weeks ago to initiate the current price rally. 
The SOL token has been breaking through key barriers in its upward trend. After surpassing the $17.3 and $18.9 levels, which posed strong resistance, the token continued to climb higher. As of writing, SOL is up 6.72% in the past 24 hours.
📈 #Solana may not be showing the $250+ price levels with industry-leading development activity like #crypto traders enjoyed in 2021. But even with reduced interest levels, $SOL has been on a +35% heater over the past 3 weeks. Check out our quick report. https://t.co/t3oz6LDGqc pic.twitter.com/11ElFiYqCw

— Santiment (@santimentfeed) July 6, 2023
Solana is a blockchain platform that aims to provide fast and cheap transactions for decentralized applications (dApps). It is designed to be scalable and can handle up to 65,000 transactions per second (tps) with an average confirmation time of 0.4 seconds. 
Solana's Numbers have Been On an Impressive Uptrend
Solana's token, SOL, went from $30 to $75 during a period of high cryptocurrency market activity. It peaked at nearly $260 in November 2021.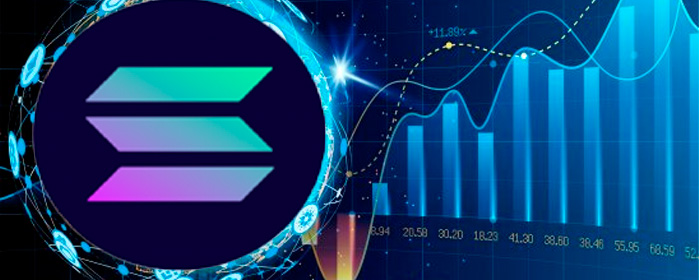 Solana's recent surge in price could be attributed to several factors. One of them is the growing popularity of NFTs (non-fungible tokens) which are digital assets that represent ownership of unique items such as art, music, and collectibles.
Solana reached its highest price ever of $260 during that rally, as shown by TradingView data. This is still the peak value for the cryptocurrency that ranks 9th in market capitalization, and getting back to it would mean a remarkable comeback for Solana.
Solana has become a popular platform for NFTs due to its fast transaction speed and low fees. Another factor could be the increasing adoption of Solana by decentralized finance (DeFi) projects. DeFi is a new financial system built on blockchain technology that aims to provide financial services without intermediaries such as banks.
In conclusion, Solana's recent surge in price is impressive and could be attributed to several factors such as the growing popularity of NFTs and increasing adoption by DeFi projects. Solana's scalability and fast transaction speed make it an attractive platform for developers looking to build decentralized applications.