Tribe Capital invested heavily in FTX prior to its collapse and is now exploring all possibilities of investing again to revive the exchange. Currently, the venture capital firm is looking to raise approximately $250 million via a fundraising campaign, with almost $100 million being anchored from Tribe Capital itself and some from its limited partners. A number of sources speculate that the co-founder of Tribe Capital met with the FTX's Committee of Unsecured Creditors to discuss the new proposal.
At the same time, it was also reported that the proposal regarding the revival of FTX included up to 9 million customer accounts. However, if the reboot plan is successful, the exchange will retain its FTX name, as it already owns a market share and they would lose it otherwise. The Committee of Unsecured Creditors announced on its Twitter account that it is fully engaged in working with debtors to evaluate all possible options for rebooting FTX or selling all exchanges and creating value for creditors.
The Committee is working with the Debtors to evaluate all options to reboot or sell the FTX exchanges and create value for creditors.

— Official Committee of Unsecured Creditors of FTX (@FTX_Committee) April 18, 2023
FTX added,
"There is no definitive timetable for a reboot or sale of the exchanges at this time. The Committee will continue to keep creditors updated on further developments."
Until a proper process is launched, all parties interested in sponsoring the exchange's reboot must contact the Debtors and the Committee. However, it is still debatable whether or not the FTX exchange would see potential revival any time soon, as similar plans have been expressed over the previous few weeks.
Plans of Revival by Tribe Capital Sends the FTT Token Flying
The news of FTX's potential revival resulted in the rise of excitement among FTT holders and other investors, leading to the surge in the value of FTX's native token. At the time of writing, FTT has experienced an increase of almost 9.11% in the previous 24 hours, pushing the trading price to almost $2.06. The total market cap of FTT is currently $679 million.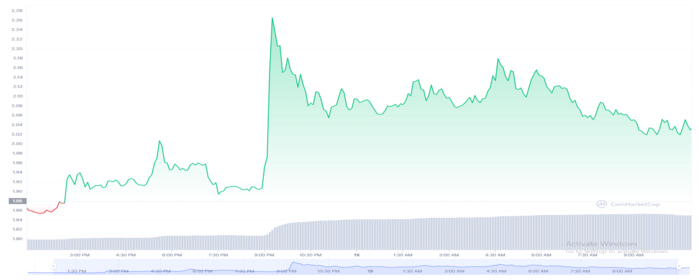 Back in January, FTX was granted approval to sell a chunk of its assets to pay the creditors. Similarly, on April 12, the attorneys representing FTX at a hearing in the United States Bankruptcy Court for the District of Delaware clarified that the firm managed to recover liquid assets worth approximately $7.3 billion. Nonetheless, the bankruptcy proceedings are still going on for FTX while its ex-CEO, SBF faces criminal charges.